you're waiting for a train
KAYLEE BELL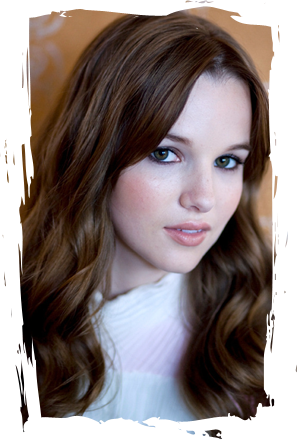 LOST DREAMERS

|

STUDENT
you create the world of the dream
THE BASICS.
full name:
Kaylee Rose Bell
nickname(s):
Kaylz, K.B., KayKay, Rosie (family)
age:
20
birthday:
April 16, 1990
totem:
None
forgive me for wanting a little specificity
THE APPEARANCE.
height:
5'4"
build:
Smaller than average and about as weak as could be. She hasn't played a sport since she was a kid, and she definitely doesn't work out. Plus, a long stay in Limbo doesn't exactly do wonders for muscle tone.
eye color:
Hazel
hair color:
Light brown
general appearance:
Kaylee looks a bit younger than she is, though she has been mistaken for an older person from time to time. She still retains some of the roundness of her features from her childhood, and she'll never look like some high fashion model. She embraces the sort of cutesy look, sporting a pair of braids now and then and feeling no reason to hide her love of costume jewelry or her collection of cartoon T-shirts. Normally she wears vintage-esque clothing, with flower prints and odd pieces here and there. She's especially fond of berets and legging/tights of various colors, textures, and prints, and this love hasn't disappeared during her time in limbo, even though she believes she has aged quite a bit.
In Limbo, Kaylee shows the signs of her aging but doesn't look unrecognizable by any means. Her hair is still long and brown. Her clothing style is very much the same, too, but there are wrinkles forming beside her eyes and the corners of her mouth from years of smiling and others along her forehead from outlandish expressions. Even some of the roundness of her features is gone.
pb claim:
Kay Panabaker
my subconscious seems polite enough
THE PERSONALITY.
personality:
Kaylee is one of those dreadfully pathetic, naive, romantic types. She likes to think she's fairly mature for her age (she's at least ridiculously well-behaved), but she's also so optimistic and hopeful and
sweet
that she's likely to get crushed. While she has arguably had her fair share of adversity in life, she has never really faced a situation in which she has been forced to quit smelling the roses and
get with reality
.
Almost funny, that.
Rather than taking her life's challenges as motivation for toughening up and getting down to business, she has become quite the passionate little thing-- very
seize the day
. She is most passionate about art and its ability to inspire people and communicate universal truths. She could go on and on about art being the best means of communicating without language or cultural barriers, and she'll be downright baffled by anyone who dares to insist that art is useless. If you want to argue about the lack of purpose in art, you might as well tell Kaylee that you hate babies and want to step on them.
Though that may make it seem as though Kaylee's incredibly melodramatic and easily offended, she's actually a generally happy person and a very friendly one. She enjoys meeting new people, learning about new people, and conversing. She likes being in groups and being the center of attention, and she'll consider just about anyone a friend. Even people who treat her badly or tend to make many mistakes can be liked by her, as she's arguably
too
understanding, empathetic and forgiving. She'd rather trust someone right off and wait for them to prove her wrong than be on her guard for safety's sake until someone has proven that they can be trusted.
Hence her current situation. She can take a lot of abuse without even realizing it's abuse. She's a lover, not a fighter, and it may not be a good thing.
If one
does
manage to upset Kaylee, don't expect a violent explosion of anger or even an explosion of tears. Kaylee loves with her whole heart right on her sleeve, but she has never been one to express emotions other than happiness and other positive things to any extremes. She may get quiet or seek some alone time. She may even bother to make it known that she's unhappy, but she doesn't know how to lose it on a person, and she doesn't
want
to get out of control.
likes:
Roses and peonies
Horses
Snuggies (shut up)
Hugs
Muffins with that chunky sugar on top (She's picky about blueberry ones)
Skirts
Shoes
Lip gloss (she has a lot of different colors)
Costume jewelry (especially stupidly long necklaces)
Fantasy everything
Drawing
Berets (because she's stereotypical)
Nail polish (she's resisting the artists' curse of eternally horrible nails)
Video games
History
Frappuccinos and caramel macchiatos
Museums
Writing (not poetry-- blegh)
Sand castles and beaches
Polymer clay
Broccoli
Sarcasm
dislikes:
Chemical engineers (it's a prejudice)
Busy work
Summer jobs
Her inability to remember to wash her hands after getting paint thinner all over them
Holier-than-thou vegans
Stupid democrats
Stupid republicans
Religion (ouch)
Being in snow for an extended period of time
People who break laws and/or misbehave for no good reason (simply to rebel, mostly)
Her allergy toward fuzzy animals
Math
Passive aggressive people (especially the ones that ignore you when you talk to them so you know how oh-so-upset they are)
skills:
All things artsy- especially drawing and a bit of sculpting
Putting up with peoples' crap
Being friendly
Being forgiving
weaknesses:
Curiosity bordering on absolute recklessness
A stupidly trusting attitude toward others
Physical weakness
A notable willingness to put herself at risk for others
fears:
Getting old
Death
Sharks, spiders, and snakes
Her little sister dying of cancer (mostly because of what it would do to her mother)
Paralysis
Heights
dreams feel real while we're in them
THE HISTORY.
current residence:
A little house in Limbo
hometown:
Ogunquit, Maine
family:
Derrick Bell, deceased, Father
Krista Bell, 45, Mother
Dorian Bell, 24, Brother
Taylor Bell, 17, Sister
history:
Kaylee was born and raised in Ogunquit.
Taylor's birth was something she was not happy about, as she was very close to her older brother and her parents, and she didn't want competition. She always hated it when Taylor copied her- always.
Her father died suddenly when she was 7 years old.
She always performed well in school, though math never ceased to give her trouble.
She was well known throughout her childhood and her high school years as the artsy kid, always being the one to take on art projects in school and get any related superlatives. It was her thing. She was even the president of her high school's art club, president of the Art Honor Society, and a total teacher's pet.
Her little sister, Taylor, was diagnosed with cancer when she was 10 (Kaylee was 13). After undergoing treatment for two years, she finally reached remission status.
She went to the Savannah College of Art and Design in Savannah, GA for a semester before transferring to George Washington University in DC.
Dorian entered the army when Kaylee was 18, and she wasn't thrilled about it
Her mother started dating shortly afterward (with mixed feelings from Kaylee)
She started dating a Mr. Agnasika (canon) when she was 19. He was her first boyfriend, and it seems like she may never have another.
A few months into that relationship, Kaylee found out Taylor's cancer had come back
She learned that she had been chosen for a really exciting, paid internship at an art museum in February
In March, after trying out a (faulty) dreaming compound for the first time, she found herself lost in Limbo. She has been a resident of the hospital's dream ward since then.
canon or original:
Canon
other:
One of her favorite songs is Nothing Compares 2 U by Sinead O'Connor, partly because it was a pretty big deal in 1990, when she was born.
Upon arriving in Limbo, Kaylee had a minimalistic grasp on time, not understanding her situation or experiencing lengths of time as one normally would in a compound-induced dream (some severe disorientation). She's very confused about how long she has been there, but she has aged more than a few years at this point (considering herself middle-aged, though she doesn't quite look that old). She has also come up with a massive collection of artwork, and she is very much lost, not aware that she's dreaming or that she might ever wake up, though she recalls memories from outside the dream. Her sister Taylor has been called upon as a projection to keep her company.
you mustn't be afraid to dream a little bigger, darling
THE PLAYER.
name:
Dun
where'd you find us?
I don't even remember at this point. XD
years of experience?
6 or 7ish
contact information:
PM or MSN
did you read the rules?:
Heck yes I did