Title: A Cold Winter Kiss
Description: Shal's World
tweety - January 18, 2013 11:26 PM (GMT)
Feel free to use my tutorial in any way you would like. Although it is my ideas that will guide you, please feel free to do whatever you choose with it!

This tutorial assumes you have a working knowledge of PSP. I used PSP X4 which has a few new settings.

Needed supplies:

Scrap Kit of choice or the one I am using called A Cold Winter Kiss. This kit is by my good friend Shal and can be purchased at the places listed at her blog.

Link to the kit directly is posted here.


Tube: Artwork © Alehandra_Vanhek. In order to use the image in this tutorial you MUST purchase it from PFD.


Template: I am using a template from Missy. I used missy_tagtemplate331. All links to her templates are on the front page under "Template Links".


Masks of Choice: the masks I used came from Vix. Her site can be found here

Direct link to the mask can be found here.

I used Vix_MondayMask1.


Wordart: I used some adorable winter word art by Rosie.

Direct link to the wordart can be found here.


Plugins: If so desired I used EyeCandy 6 Gradient Glow and Snow Drift.




Open all supplies needed for this tutorial. Open your template, Shift +D, and close the original. Delete the top copyright layer.

If you are unfamiliar with a template it is very simple and easy to use. Basically, you click on the layer you wish to color. Then, Selections, Select All, Selections Float, Selections Defloat, Selection Invert (for papers) and then select the paper layer and hit the delete key on your keyboard. If you are using a round shape, you would also need to go to Selections, Smooth, 10 for settings, then Invert. I won't be writing these directions out every time.

Starting at the top this time:
background - hide or delete.
glittered rectangle1 left - merge with glittered rectangle2 right
glittered rectangle2 left - merge with glittered rectangle2 right
rectangle left - merge with rectangle right
glittered rectangle2 right - SW_WK_Paper 15, noise 60.
glittered rectangle2 right - noise 70 about 3 times.
rectangle right - SW_WK_Paper 6, move your rectangle template layer over and change blend to screen.
glittered rectangle center - noise 90 about 4 times.
rectangle center - SW_WK_Paper 15
dotted frame - manual color correction, white, noise 90 x2.
glittered circle left - merge with glittered circle right.
glittered circle right - noise 90 4-5 times.
circle right - merge with circle left.
circle left - SW_WK_Paper 9
frame background - SW_WK_Paper 21
frame - add noise 90 4-5 times, drop shadow
by missy - hide or delete

Add SW_WK_Paper 16, add your mask to this later, merge group. Duplicate, mirror and merge. Duplicate the merged one, flip. Merge these all together.

Add your tube to the middle rectangle frame, and move to where you want it under the frame. Duplicate and move one over the frame. Delete portions you don't want seen sticking out. Drop shadow tube 1, 1, 80, 5. Duplicate and move this tube to the left frame, mirrored. Duplicate, and mirror, merge the two layers together. Using your eraser or your selection float tool, delete portions outside of the inside circle layer. Change overlay to Luminance, opacity to 65.

I added the following elements. Resize as necessary and see tag for exact placement:
SW_WK_Flake 6 to the top left side of the tag.
SW_WK_Flake 10 to the top right side of the tag.
SW_WK_Bow 5 to the bottom left side on the circle layer, duplicate and mirror.

Add any elements of your choice. Drop shadow elements of choice. Merge any layers you choose together.

Add your wordart to the bottom center of the tag. Using your selection tool, I used the manual correction tool to change the colors. Change the color of Snow to a red from your papers, and Day to a Teal from your papers. Select none. Add noise 56. Add a white 1.0 gradient glow, then Snow drift with the following settings: Under settings: Snow Drift, On Top, First Flakes, then modify it to the following: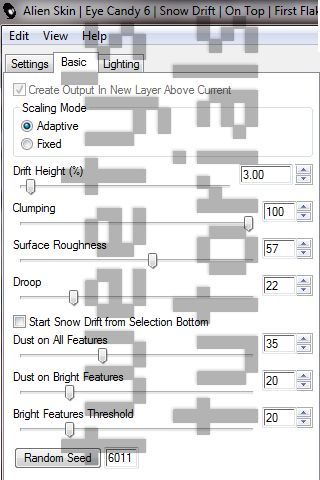 Add your text of choice, I used DazzlingDivas font, select one color to type out the name, then use your selection and select every other letter, then use your manual correction tool to change it to the opposite color (red or teal). Then, add noise 40, with a 1.0 white gradient glow, the same Snow Drift settings as above, and a regular drop shadow as above.

Add your copyright at this time. Resize tag if desired.

Hope you enjoyed this tutorial! Please feel free to send me your results!
Hosted for free by zIFBoards