Title: Sing It From The Rooftops
Description: //Our advertisement
Sporky - June 23, 2011 10:17 PM (GMT)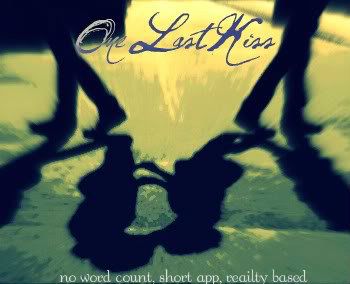 one last kiss • rules • plot • wanted ads • advertise
What would you do if people in your town kept
getting into freak accidents and passing away?
What would you do if your town was becoming
infested with outsiders? Would you accept the
new citizens, or become a snob, avoid them, and
start rumors? That's what happens in Orchard
Creek, every moment seems to count to everyone
in this town. Where the death toll keeps rising and
new things are happening on a daily basis. Will the
wounds ever heal of those loved one's who only
wanted just One Last Kiss?
IF
CODE
[align=center][URL=http://z13.invisionfree.com/onelast/index.php?act=idx][IMG]http://img.photobucket.com/albums/v222/gothangel/One%20Last%20Kiss/newad5.jpg[/IMG][/URL]
[SIZE=4][font=elephant][URL=http://z13.invisionfree.com/onelast/index.php]one last kiss[/URL] • [URL=http://z13.invisionfree.com/onelast/index.php?showtopic=643]rules[/URL] • [URL=http://z13.invisionfree.com/onelast/index.php?showtopic=644]plot[/URL] • [URL=http://z13.invisionfree.com/onelast/index.php?showforum=11]wanted ads[/URL] • [URL=http://z13.invisionfree.com/onelast/index.php?showforum=47]advertise[/URL][/SIZE][/font][/align]
[align=center][i]What would you do if people in your town kept
getting into freak accidents and passing away?
What would you do if your town was becoming
infested with outsiders? Would you accept the
new citizens, or become a snob, avoid them, and
start rumors? That's what happens in Orchard
Creek, every moment seems to count to everyone
in this town. Where the death toll keeps rising and
new things are happening on a daily basis. Will the
wounds ever heal of those loved one's who only
wanted just [URL=http://z13.invisionfree.com/onelast/index.php]One Last Kiss[/URL]?[/i][/align]


Proboards

CODE
[center][URL=http://z13.invisionfree.com/onelast/index.php?act=idx][IMG]http://img.photobucket.com/albums/v222/gothangel/One%20Last%20Kiss/newad5.jpg[/IMG][/URL]
[SIZE=4][font=elephant][URL=http://z13.invisionfree.com/onelast/index.php]one last kiss[/URL] • [URL=http://z13.invisionfree.com/onelast/index.php?showtopic=643]rules[/URL] • [URL=http://z13.invisionfree.com/onelast/index.php?showtopic=644]plot[/URL] • [URL=http://z13.invisionfree.com/onelast/index.php?showforum=11]wanted ads[/URL] • [URL=http://z13.invisionfree.com/onelast/index.php?showforum=47]advertise[/URL][/SIZE][/font][/center]
[center][i]What would you do if people in your town kept
getting into freak accidents and passing away?
What would you do if your town was becoming
infested with outsiders? Would you accept the
new citizens, or become a snob, avoid them, and
start rumors? That's what happens in Orchard
Creek, every moment seems to count to everyone
in this town. Where the death toll keeps rising and
new things are happening on a daily basis. Will the
wounds ever heal of those loved one's who only
wanted just [URL=http://z13.invisionfree.com/onelast/index.php]One Last Kiss[/URL]?[/i][/center]
* Hosted for free by InvisionFree