Title: Accused: Yassin OMAR, Warren Street Suspect
Description: Profile of the accused and convicted
Sinclair - January 16, 2007 11:30 AM (GMT)
Court Image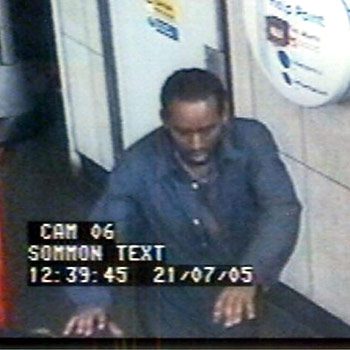 Sinclair - July 9, 2007 01:50 PM (GMT)
QUOTE

Last Updated: Monday, 9 July 2007, 12:38 GMT 13:38 UK



Profile: Yassin Omar



Three men have been convicted of a botched attempt to repeat the devastation of the 7 July attacks in London. After the failed attack, Yassin Omar disguised himself in a burka in a bid to escape.

Born in Somalia in January 1981
Came to UK early 1990s, fostered
March 1999 moved to flat in New Southgate, north London
Took a GNVQ in intermediate science

Yassin Omar was perhaps the second most important person in the conspiracy behind the 21 July attacks. While Muktar Ibrahim hatched the plan, it was developed with Omar's support, the seed of the idea apparently coming in September 2004.

But more importantly, Omar's eighth floor flat in north London was the bomb factory. Between April and July 2005 more than 400 litres of hair bleach were brought into his home and chemically altered and augmented to become bombs.

Born in Somalia, he came to Britain with his sisters in the early 1990s but much of his childhood was in local authority care.

In 1993 he was fostered for a time by Steven Lamb and his partner Bernice Campbell, who has since died.

Mr Lamb told the trial Omar was "not comfortable with boundaries and rules" being set by Ms Campbell.

On reaching adulthood Omar was given his own flat and would hang out with his friends, play computer games and watch television.

But his friend, Stephen Bentley, said that during 2000 and 2001 Omar became increasingly attracted to Islam.


Yassin Omar fleeing after setting off his bomb

He began wearing a robe and a hat, rather than western clothing, and spoke of his support for the Taleban, who he believed were establishing a truly Islamic state in Afghanistan.

Omar often went to the Finsbury Park mosque to hear the radical preacher Abu Hamza.


Twin Towers

Mr Lamb said he occasionally visited his foster son but lost contact in 2001. On one occasion when he visited he noticed there was little food in the flat and said: "If Allah was so good he would put food on the table."

Omar took exception to his comment and asked him to leave. Mr Lamb tried to visit again but Omar refused to let him in.

Omar travelled to Birmingham in a burka after the attacks

Omar was clearly becoming increasingly radicalised and his attitude was epitomised by his response to the attack on the Twin Towers.

At the trial the man who became his brother-in-law said Omar described the 9/11 attacks as a "good thing" and a "worthy cause". Omar believed Muslims were right to bomb the US because the West was against Islam.

His brother-in-law was shocked and argued with Omar, saying that ordinary people had died for no good reason, families had been destroyed. "Do not try to justify that crap to me," he told Omar.

Omar cut himself off from both Muslims who opposed his jihadi rhetoric and non-Muslim friends. He spent more and more time associating with Muktar Ibrahim.

On one occasion in early 2005 Omar challenged the mosque's imam after he had condemned a Palestinian suicide attack in a sermon on the right path for Muslims.

After Sayed Bukhari warned the congregation that suicide bombs were against Islam, Omar argued with him accusing him of misleading the people.

He later apologised - and five days before 21 July, the imam officiated at the first part of Omar's wedding ceremony, the signing of a contract.

Fled to Birmingham

After the failure of the 21 July attacks Omar fled to Birmingham, wearing a full-length face-covering gown, or burka, he had taken from his mother-in-law. He was captured on CCTV - with his tall frame standing out in woman's clothing.

I thought if I was wearing a bag they (the police) would have to think twice and ask what I had got in there - then I would have had a chance to explain

Yassin Omar

During the trial, he claimed the 21 July attacks were only ever intended as a stunt. He claimed he got the idea from the Fathers4Justice campaigners, who threw purple flour at the prime minister in the House of Commons in May 2004.

He told the court: "I hoped that this would be televised, would be shown on TV and taken seriously and that would put pressure on the government after they realised that people have gone to these lengths just to do a demonstration on Iraq."

His eventual arrest was one of the most dramatic moments of the investigation. Twelve fully-armed counter-terrorism officers who had tracked him to the house burst in and moved through the rooms.

Yassin pulled on his rucksack and stood in the bath. Officers saw the rucksack and had to make a split-second decision as to whether or not it was full of explosives.

The lead officer who confronted Omar saw the bomber move his hands downwards. Convinced he was going for the bomb trigger, the officer zeroed his sights on Omar's head and released the safety on his gun.

Amid all the shouting, a violent struggle took place with one officer using a Taser stun gun and another punching Omar in the face to further subdue him.

Prosecuting, Max Hill told the jury: "We invite you to conclude that Omar's conduct on 27 July, consistent with his conduct six days earlier, was that of a man ready and willing to die."

source:BBC
The Antagonist - July 9, 2007 03:54 PM (GMT)
QUOTE
Profile of the July 21 plotters
3.12, Mon Jul 9 2007

Yassin Omar - Omar, also a Somalian, he came to Britain as a refugee.

He tried to set off a bomb on a Victoria Line underground train at Warren Street station. Omar lived on the ninth floor of a block of flats at Curtis House in New Southgate which was the bomb-making factory.

A friend from his schooldays, Steven Bentley, revealed that Omar had also been a follower of Abu Hamza after becoming interested in religion at about 18, when he started wearing traditional Muslim attire.

He got married at a hastily arranged ceremony just four days before the bombings. His local imam, who carried out the service, told the court how Omar had angrily accosted him for a sermon denouncing Palestinian suicide bombings.

After the failed bombings, he fled from London to Birmingham disguised as a woman, wearing his mother-in-law's burka and carrying a handbag.

He said he had been scared he would be shot like Brazilian electrician, John Charles de Menezes, who was gunned down by police at Stockwell Tube station on July 22 after being mistaken for one of the bombers.

When arrested by police, he was found standing in a bath, wearing a rucksack. He too argued that the plot was a hoax and his defence team said he was "simple-minded".
numeral - July 9, 2007 07:01 PM (GMT)
QUOTE
Foster sister's hatred for 21/7 bomber Yassin Omar
Last updated at 18:51pm on 9th July 2007

Yassin Omar's foster sister was "disgusted" by his actions on July 21 - not least because her own son had been caught up in the London bombings two weeks earlier.

He was on a Piccadilly line train behind the one destroyed when 7/7 terrorist Jermaine Lindsay detonated his rucksack and although unhurt, the carnage left his mother horrified that Omar could have been involved in something similar.

She decided to cut all links with him and refused to go to Woolwich Crown Court to act as a character reference. The family link between the two attacks was revealed by Omar's foster father Stephen Lamb, the only member of the family prepared to speak out in his defence.

Mr Lamb said the woman - daughter of his partner of 25 years Bernice Campbell - used to visit their home in Enfield regularly and knew Omar well.

But discovering he was implicated in July 21, she cut him off dead.

"She won't have anything to do with him, she is disgusted," said Mr Lamb. "I couldn't get anyone else to come forward to give evidence.

"I would like to believe his defence, I can't believe he would have wanted to kill all those people."

Mr Lamb, a wiry man in his late 40s, was nervous as he gave evidence in the witness box in support of Omar.

He and Ms Campbell - who died in 2003 - cared for him for five years after he fled Somalia as a refugee and came to the UK as a boy.

Struggling with the image of the person who had grown up in his house, Mr Lamb initially described a likeable young man, but eventually conceded there was something not quite right.

"Bernice had difficulties with him," he said. "She had reservations, she didn't dislike him, but she had reservations.

"He would not co-operate with boundaries or rules if they were set by her."

Omar came under their care in 1994 and Mr Lamb described the 12-year-old as awkward: "He was evasive and defensive - he wouldn't speak about himself or his background.

"It was a hard time when he came to us, we put him in a new school at the start of a new term."

Throughout the 90s, the Christian couple fed and clothed him and he was educated in Enfield. When the family celebrated Christmas, Omar took part.

"We were given his background when he came to us and told he was Islamic, a Muslim," said Mr Lamb.

"We were also looking after three other foster children - two Eritrean brothers and a young Ethiopian."

During his time with them, Omar met up regularly with his sisters, with whom he had fled Somalia via Kenya.

And he became good friends with a boy called Matthew Dixon, who gave evidence for the prosecution in the case. But when he turned 18 and moved into a flat in Curtis House, New Southgate, the relationship between foster parents and son began to sour.

After dropping out of an IT course at Enfield College, Omar turned increasingly to religion and withdrew from his old life.

"I saw him infrequently after he moved," said Mr Lamb. "I managed to catch him once at Curtis House but the last time I saw him face to face was 2000 or 2001.

"He didn't have much in the way of luxuries, he didn't even have a kettle."

The visit was tainted when Mr Lamb arrived at the shabby ninth floor flat to find no food in the house.

Sniping at Omar's religion, he said: "If Allah was that good, he would have put food on the table."

Omar responded: "If you are going to talk like that, then you should leave."

The dispute was soon resolved, but highlighted the strain in their relationship and when Mr Lamb tried to visit again, no one answered the door.

The next time Mr Lamb saw Omar was on television in a crowd outside a mosque in Finsbury, where Muslim cleric Abu Hamza was preaching.

When asked in court whether he thought Omar could have travelled to Afghanistan to take part in jihadi training camps, he replied: "It did cross my mind."

But still, Mr Lamb could not believe that his former foster son was involved in the failed bombings of 2005. Seeing Omar's picture in the media, he said: "I was shocked, I was utterly speechless. I had to keep reading the reports and look at the photos to make sure I wasn't mistaken.

"I spoke to members of my own family, we had to work out what to do about it. "I had no idea that he had extremist tendencies at all."

Battling with the idea of someone he thought he knew, he went on: "I don't think he could have done it, he had only just got married. I believe it was a demonstration. The tabloid media portrayed him as an extremist, but I don't believe it."

Yet despite his dogged support for Omar, Mr Lamb has not seen him once while in Belmarsh prison, nearly two years.

"I have not been given a visiting order but I want to see him."

And in a nod to an earlier life, he added: "I want to go and see him and give him some of the Indian sweets that he likes."
Sinclair - July 10, 2007 12:14 AM (GMT)
QUOTE

July 10, 2007
Yassin Hassan Omar: Rebellious foster child turned to radicalism
The drifters and dropouts who turned on their adopted home

Yassin Hassan Omar, the Warren Street bomber, arrived in Britain from Somalia aged 11 in the company of two older sisters and a cousin. He lived with his elder sister until she married a man who took a dislike to him.

Omar's sister passed him into the care of social services and in 1993 he was placed with Stephen Lamb and Bernice Campbell, experienced foster parents, in Winchmore Hill, North London. They looked after Omar for six years while he attended Aylward School, Edmonton, where he took GCSEs, and then Enfield College. Mr Lamb told the court that Omar was "always very pleasant" but, as he became older, had difficulty with women telling him what to do.

"His sisters wouldn't be able to discipline him because he was male and of higher social standing," Mr Lamb said in a statement to police read out in court. Ms Campbell, who is now dead, "had reservations" about Omar. Mr Lamb said: "He wasn't comfortable with rules, boundaries, if they were set by her."

In 1999, when Omar turned 18, Mr Lamb and Ms Campbell were no longer allowed to care for him. He was given a council flat on the ninth floor of Curtis House, a tower block in New Southgate.

Lonely and lacking adult guidance, Omar dropped out of college, where he had been studying science, and became increasingly interested in extremist doctrines. Their apparent ability to provide an Islamic answer to all of life's difficulties offered him a sense of purpose.

The flat was the centre of Omar's world and open house for his friends. He often made them watch his Islamist propaganda videos and tried to convert nonMuslims, succeeding at least temporarily in persuading Matthew Dixon and Steven Bentley to follow his faith.

No 58 was the obvious place for Ibrahim and Omar to use as their base. There, on the kitchen stove, they reduced hundreds of gallons of liquid hydrogen peroxide to create a concentration of the chemical that would explode. On July 17, 2005, four days before the planned suicide bombings, Omar married, at a ceremony in Finchley mosque, the girl whom he had been seeing for a short while. He had previously argued with the imam who carried out the ceremony over the issue of suicide bombings, but later apologised. The wedding, which his new wife was not required to attend, was carried out at a few hours' notice[?].

source;The Times
amirrortotheenemy - November 20, 2007 10:54 PM (GMT)
QUOTE
Terrorist look-alike lived in Auckland

3/08/2005 12:43:01

London police have confirmed a visitor to New Zealand was not one of the suspected London bombers.

A member of the public told police 24-year-old Yassin Hassan Omar spent time living in an Auckland boarding house last year. Omar is one of four men suspected of carrying out the failed London bomb attacks on July 21.

Assistant Commissioner Peter Marshall says overseas inquiries have confirmed the visitor was in fact someone else, who was arrested on unrelated matters during his stay at the Mt Albert boarding house.

He says fingerprints were checked against those of the suspected terrorist and Interpol has confirmed they are two separate people.

Source
amirrortotheenemy - November 20, 2007 10:59 PM (GMT)
QUOTE
NZ visitor not London bomber

11:01am 3 August 2005

London metropolitan police have confirmed, through our NZ Police liaison office in London, that the man identified as living at a Mount Albert guest house during 2004 is not Mr Yasin Hassan Omar, the person arrested in London in relation to the recent bombings there.

Assistant Commissioner, Crime Reduction and Public Safety, Peter Marshall says the quest house lodger had been arrested on unrelated matters during his stay in NZ. His fingerprints have been checked against Mr Omar's and Interpol confirmed they are two separate people.

"We appreciate the vigilance of the public in reporting suspicious incidents to us and encourage them to continue to do so.

"We also value and are encouraged by the ongoing positive relationships we are developing with Muslim communities throughout the country."

Assistant Commissioner Marshall says the prompt way this recent situation was able to be resolved reinforces the value of our police liaison officers network and the close relationship we maintain with overseas law enforcement agencies.

ENDS

Supplied by Media Relations: 04 474 9442 or 474 9482
After Hour Pager: 021 101082

Copyright 2007 New Zealand Police

Source
The Antagonist - July 11, 2008 11:17 PM (GMT)
QUOTE
From The Times
July 12, 2008


21/7 leader Yassin Omar's fiancée is jailed for disguising him in burka


Steve Bird

The fiancée of the leader of the failed July 21 suicide bombers was jailed for three years yesterday for helping him to escape by dressing him as a Muslim woman in a burka.

Fardosa Abdullahi was 17 when she gave Yassin Omar her mother's robes, a handbag and mobile phone the day after the attacks. She accompanied him to a North London bus station, from where he fled to Birmingham, and then repeatedly lied to police about his whereabouts.

Abdullahi, now 20, became engaged or possibly married to Omar in an Islamic ceremony four days before he tried to blow himself up at Warren Street Tube station in 2005. The Old Bailey was told that Abdullahi is mentally ill and was targeted by Omar because she was vulnerable and easily led. Five reports from psychiatrists and psychologists told the court that the Somalian woman had a long history of mental illness, including at one point hearing the voice of Omar telling her to harm herself.

Judge Paul Worsley rejected her legal team's claims that Abdullahi, who had been granted indefinite leave to remain in Britain, should be spared jail because Omar had preyed on her vulnerability.

Related Links

* July 21 bombers 'must serve 40 years'
* Terrorists released early to ease overcrowding
* Yassin Hassan Omar: Rebellious foster child

"Your responsibility to this country should have been greater than your responsibility to your husband or fiancé, if such he was," he said.

"The message must go out that this court will not go soft on those who assist terrorists, even those who are young, vulnerable and under pressure, as you undoubtedly were."

Abdullahi, who wore a grey dress and headscarf, wiped away a tear as she was led to the cells. She is 24 weeks pregnant.

Her sentencing brings to an end a series of cases in which 16 people have either been convicted or admitted charges linked to the July 21 attacks. The bombs failed to detonate properly and the men fled the public transport system.

Emma Gargitter, for the prosecution, told the court that Abdullahi became engaged to Omar on July 17, despite not being at the ceremony. The day before the attacks, he used her mobile phone to send a text message to his fellow bomb plotter, Manfor Asiedu.

After the failed suicide attacks, the couple spent the night together at a hotel before she accompanied him to Golders Green bus station.

Police later released CCTV footage of Omar, who is 6ft 2in tall, dressed head to toe in a burka. He had shaved his arms in an attempt to look more feminine.

Abdullahi was contacted by Omar's family after they saw CCTV pictures of him from the Warren Street attack on television.

She telephoned police and repeatedly lied to detectives, claiming she had not been in contact with Omar since the attacks. Omar was arrested five days after the attacks. He was jailed for life with a minimum of 40 years.

Jonathan Cooper, QC, for the defence, said Abdullahi's brother introduced Omar to her as a "holy man".

The medical reports showed that she was being treated for mental illness from a young age and had complained of hearing voices telling her to harm herself. That voice later changed to Omar's, she told doctors.

Abdullahi, from Finchley, North London, pleaded guilty on June 5 at the Old Bailey to a charge of assisting an offender.

A further count of failing to disclose information about acts of terrorism was allowed to lie on file.

The judge said that her personal circumstances and guilty plea meant that he could reduce the prison sentence from five years.
amirrortotheenemy - June 5, 2009 04:59 PM (GMT)
QUOTE
Further risk has been identified from use of Taser in proximity to a number of explosive formulations, which are sensitive to electrical discharge. One such group is the 'organic peroxide explosives' such as HMTD and TATP. Items that produce an electrical discharge (such as Taser) will set off peroxide explosives and other sensitive explosives. Other explosive materials may also be sensitive to electrical discharge, depending on how the material is packaged, its age, storage conditions and other factors. The heightened risk, in relation to subjects who may be holding or in close proximity to an improvised explosive device, must also be factored in when assessing the 'appropriateness' and 'necessity' of using a Taser. The potential threat of the subject being able to initiate the improvised explosive device, should the use of the Taser be ineffective, must also be taken into account.

Source (PDF)