Welcome to Genesis 2.0, the new and improved roleplay site based on the fab show Heroes. We are an AU-post-season-one roleplay, with original characters only, which gives us the chance to be much more creative with our writing.

We decided to move from our lovely home of Proboards to try bigger and better things, and with the move, we have a new skin, new plot and many new members. Our staff team are epic, so give them a shout via PM, the C-box, or the Questions board if you have any queries. If you like what you see, feel free to join - we don't bite, although there might be a few future Sylars lurking about... so watch your back!

Fight for your rights.
Fight to survive.




odessa: 4
new york: 13
costa verde: 3
paris: 1
madrid: 1
london: 4
cork: 1
las vegas: 0
verona: 3
tokyo: 0
mods: 2
admin: 1

••••• the plot.
••••• the rules.
••••• the application.
••••• the face claim.
••••• the power claim.
••••• the song claim.
••••• announcements.
••••• be an affiliate.
••••• advertise your site.


it is december. the aftermath of the bomb (or exploding man, depending how 'in the know' you are) has started to dawn on the citizens of new york, and clean-up work has just begun.
very cold. in most places, the temperature is below zero degrees. snow lies everywhere, and gets thicker and thicker with every day, and harsh winds make the winter even colder.

a memorial service is being held in three weeks to remember all of the unfortunate heroes that lost their lives to the bomb blast killing over half the population of new york. will any heroes or villains make an appearance?

to be announced

to be announced

to be announced

to be announced

InvisionFree gives you all the tools to create a successful discussion community.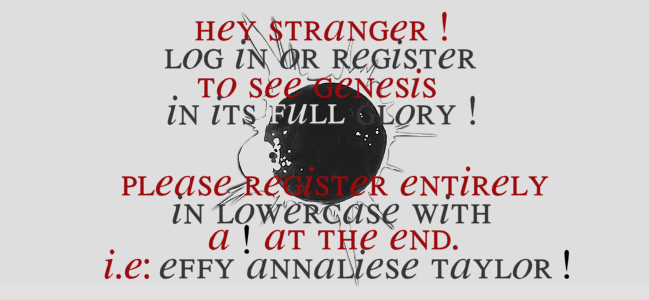 Active Stats
Total Cumulative Posts
8 ( 0.99% of total forum posts )
Posts per day
0
Joined
29-April 09
Last Activity:
Aug 19 2010, 09:13 PM
User's local time
May 22 2013, 12:36 AM

Communicate
Email
Click Here
AIM Name
No Information
ICQ Number
No Information
Yahoo Identity
No Information
MSN Identity
No Information
Personal Message
Click Here

Information
Home Page
No Information
Birthday
No Information
Location
No Information
Interests
No Information

Posting Details
Member Group
mod neutral !
Member Title
CYROKINESIS !
Avatar
Signature

Stop talking, YOU DAMN FURRY!