-

Hollyn Pauline Rose

*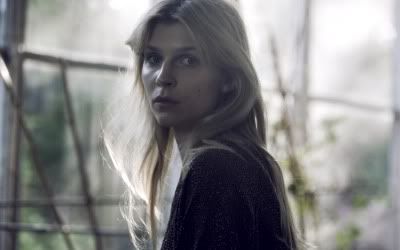 Clemence Poesy
Name:
Rachel Mae Edwards -- Known as Hollyn Pauline Rose
Nickname(s):
Age:
Date of Birth:
Gender:
Sexual Orientation:
Occupation:
Clerk, Albertsons by day - Hunter by Night.
Likes:
[x]Dancing
[x]Laughter=contagious
[x]Organization
[x]Cleanliness
[x]Rainy Nights
Dislikes:
[o]Running
[o]Vampires
[o]Effort
[o]Arguing
[o]Smoking
Strengths:
[x]Determination
[x]Skilled Murderer
Weaknesses:
[o]Mortality
[o]Trusting
[o]Kind-hearted
Quirks:
[x]Girl has a purty mouth
[x]All smiles
[x]An array of brilliant masks
Fears:
[o]The undead
[o] Supernatural anything
[o] Death
Secrets:
[x]Mass-Murderer / Supernatural Hunter
[x]Lonely
Overall Personality:
Hollyn is as sweet as she wants you to believe. She is full of smiles and an array of other brilliant masks for the world to see, but inside she is a lonely individual. She'll talk your ear off or if it suites her lend an ear to listen. Her laughter is contagious, and she shares it as often as possible. By day she puts on a mask of sweet perfection, she is just that girl next door, but by night her mask hardens with hate and she goes in search of imperfections. To the police she is an unknown psychopathic mass-murderer whose signature is wooden bullets and a silver sword, and they are desperately attempting to track her down. To those around her she is just a new face in town. To herself, she is a woman on a mission to destroy those who took everything from her.
Hollyn, like any other woman, does have feelings - A lot of them. She has been alone for a couple years now, and it is beginning to weigh heavy on her. She is considering stopping her short-lived hunting adventures and replace them with a normal life, if that is at all possible. Beneath her loneliness there is a woman filled with hate and it scares her to think she will never be able to overcome it.
History:
October 23rd 1988
A bouncing baby Rachel Mae Edwards is welcomed into this world to happy mother Margrethe and Paul Edwards. A blossoming young family.
January 15th, 1992
Merrily welcomed brother Paul Jay Edwards to the world.
December 20th 1992
Welcome 2nd brother Gregory Paul Edwards to the world.
February 19th 1993
Gregory Paul Edwards disappears in the night.
October 31st 1998
Margrethe Edwards commits suicide.
November 5th 1998
Rachel is exposed to the supernatural world for the first time, learning her mother's untimely death was not exactly a suicide but an elaborate lie her father fabricated to protect them.
September 4, 2003
They come for Rachel. Paul jr. commits 'suicide' and Paul Sr. disappears.
January 1, 2003
Rachel becomes ward of state after her capture on the streets of Portland, Oregon. Moves in with a loving family who find the girl distant and mute.
September 22nd 2006
Temporary family murdered in the night. Rachel barely escapes due to the help of hunter Joseph Morgan who authorities now believe to be the murderer and child abductor.
September 23rd 2006
Rachel and Joseph flee Oregon. Rachel learns the deal her mother made with the unnatural and is determined to kill those who betrayed her. Training begins.
October 23rd 2006
Rachel barely survives her first hunt, but is successful with the help of Joseph Morgan. Training continues. Happy birthday, you're alive.
May 9th 2008
Rachel makes her first kill alone and finds she is good at it.
July 4th 2009
Joseph Morgan dies in combat. Rachel lays low.
December 24th 2009
Joseph's Murder has been avenged.
April 3rd 2010
Rachel's past catches up to her and alone she faces the man who took her family away from her. He escapes.
August 12th 2010
Rachel catches up with the man who took her family away, a man she now knows as Kraven. She faces her father, turned undead and thirsty.
January 10th 2011
Following Kraven's scent to Louisiana.
August 30th 2011
Settles in Shreveport-Bossier City, Louisiana to lay low for a bit as authorities begin to catch up with her, due in part to help from a 'mysterious' tipper. Assumes the name Hollyn Pauline Rose.
Hello, my name is
"V"anilla
I am
Three and Twenty
and I have been roleplaying for
8+yrs
I read the rules, too! the keyword for a
human
is
---- -- -----
Easy sample from another place - Emily Binks & Charles Sinclair
It was all fun and games, until Charles got her alone. Emily willingly followed him out the front of the casino and away without a second thought. It was really rather stupid to think she could trust a monster, and Charles proved that point when they rounded a corner into a side alley-way. Emily found herself suddenly grabbed and slammed up against the wall. She sucked in a deep breath of surprise only to have it slammed out of her when she hit the wall. She sputtered in his face with a look of complete horror at the change of events. He demanded answers to question she didn't stand. Who were they? Who sent what? It stunned her. Her feet kicked at the empty air beneath her and she began to panic.
Emily looked on the brinks of tears until she caught sight of his weapon of choice - His two sharp fangs. She went from gasping like a fish out of water, to a steady calm. One of her hands lifted from her side, but being restrained by her shoulders only her warm fingertips would reach his chin. "You're real," She breathed with a trembling breath. There had always been that tiny bit of doubt somewhere. You could only be told you're crazy so many times before you start to wonder, but then here he was in the dead flesh. Her savoir, and he was about to rip into her if she didn't come up with some answers quick. Emily swallowed," I need you." She started with a meek tone."I can't leave you, not now that I have found you." Emily stared at him wide-eyed, pausing for her racing thoughts before,"Can you give it to me? Can you give me forever?" She said with such longing.
CLICK-CLICK
"Put. The girl. Down." A voice demanded. Sure enough, Charles' suspicion of being hunted were partially correct. Unfortunately for Emily, she had no idea she was set up to be bait. At the mouth of the alleyway stood her friend, both arms raised with a revolver pointed dead on at him. "Oh My Gawd, she's got a gun! What is wrong with you?!" Emily shouted in outrage. "SHUT UP!" The women barked back, jerking the gun to hurry Charles along,"Do what I say. Put. Her. Down." THIS is what he meant just moments before, it suddenly dawned upon her."Oh no.." Emily immediately looked to Charles, quickly shaking her head,"I-I swear I di-didn't." She quickly stammered, as if he could really believe her now. If she was afraid before, now she really fear for what little time she had left in her life might end tonight.