Title: my new project..
Volksrod68 - July 26, 2010 11:10 PM (GMT)
been scootering around on the dragstar but it never really did it for me...so while scanning around on ebay ...as you do i found this...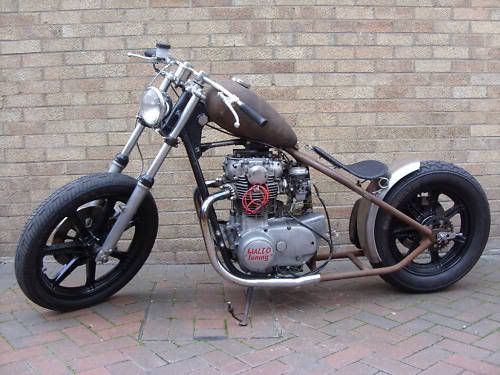 brought it home and was very happy...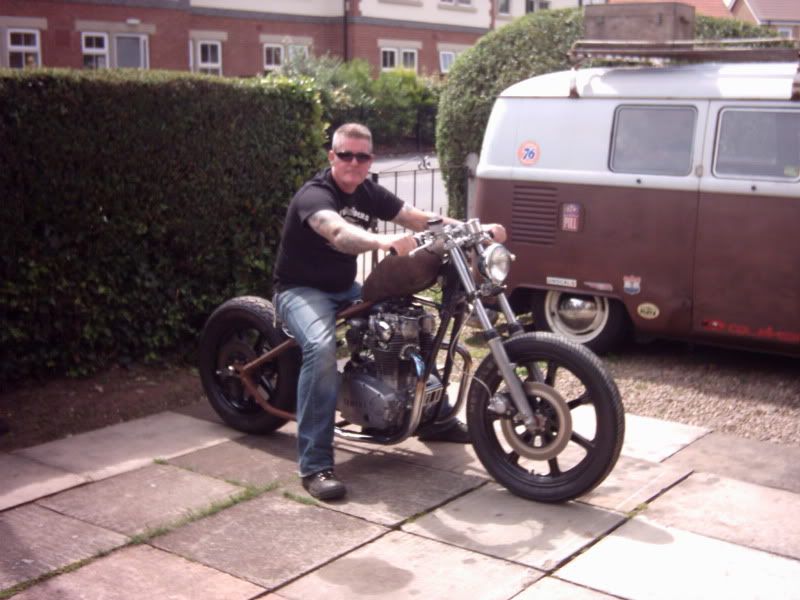 started scanning through the box of bits everything seems to be there..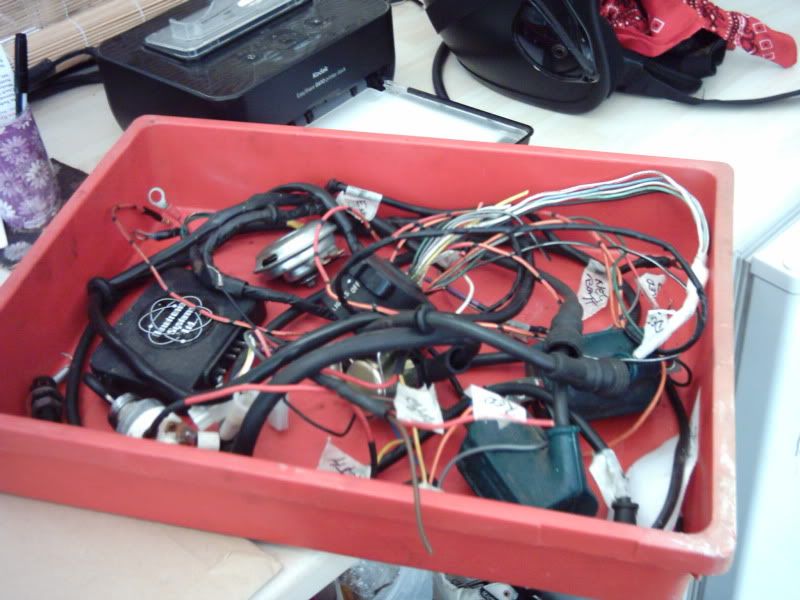 laid out the electrics...every knows how i love electrics..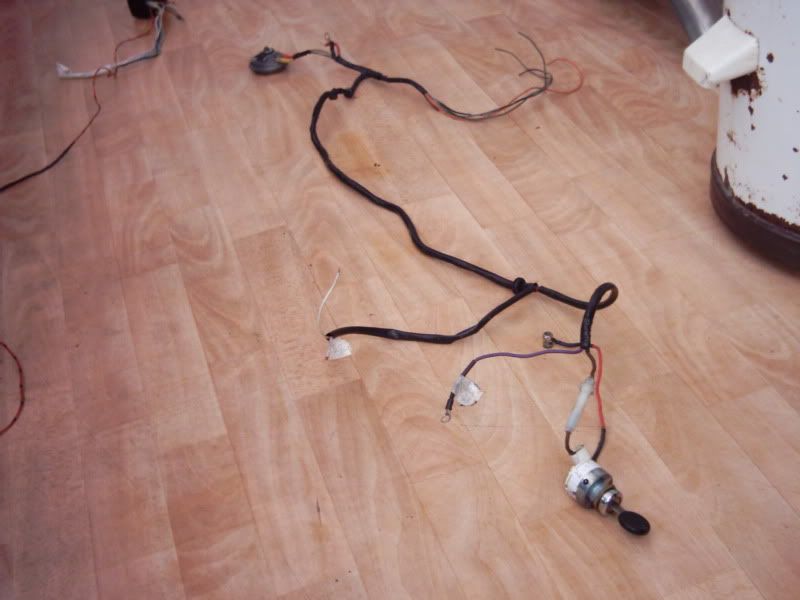 after a few phone calls and texts to nick(vdub1955)i had ignition and a good spark...wanted to hide my coils so made a bracket and mounted them under the seat...nice n tidy and i think air will still keep them cool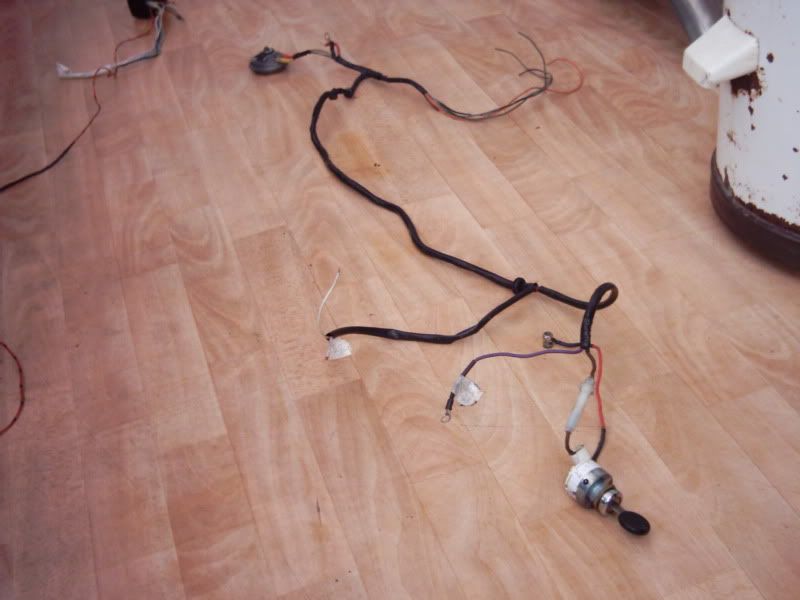 but after cicking it over for ages have found the spark plugs arn,t even wet with petrol ...so at the mo got carbs spritted ready for cleaning..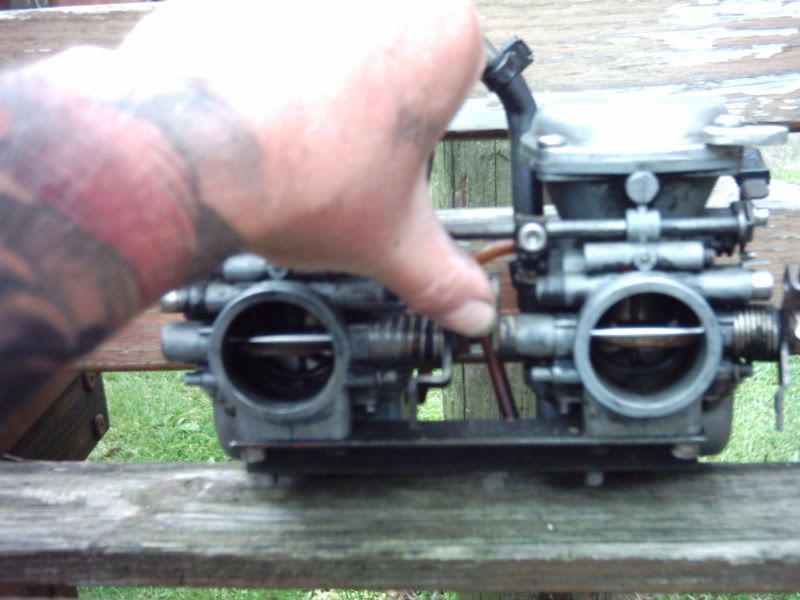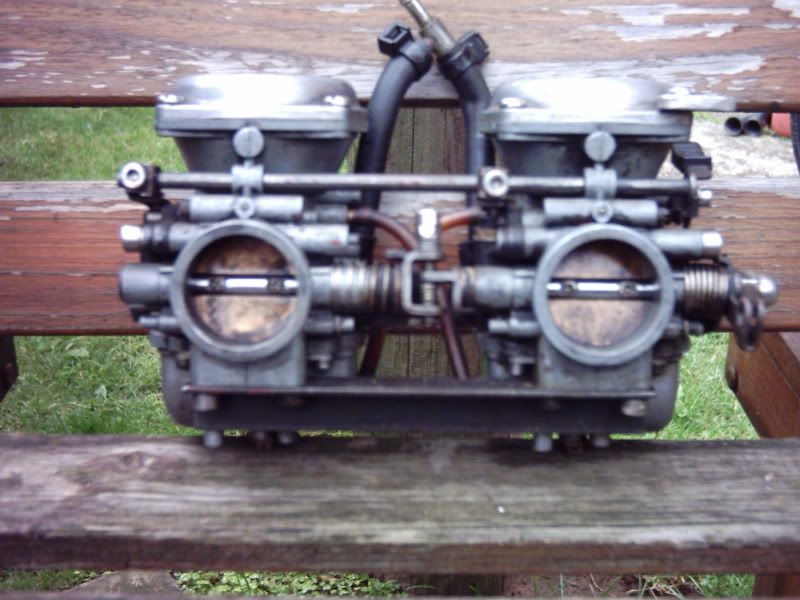 i,ll keep posting as i go...really enjoying doing this though....
Volksrod68 - July 27, 2010 01:26 PM (GMT)
pics for nick.....on the timing i can,t see no hole mate..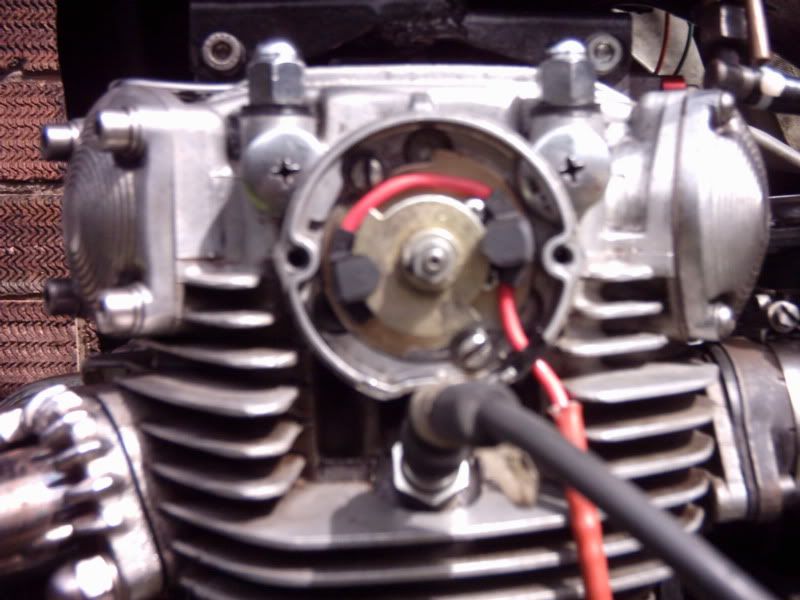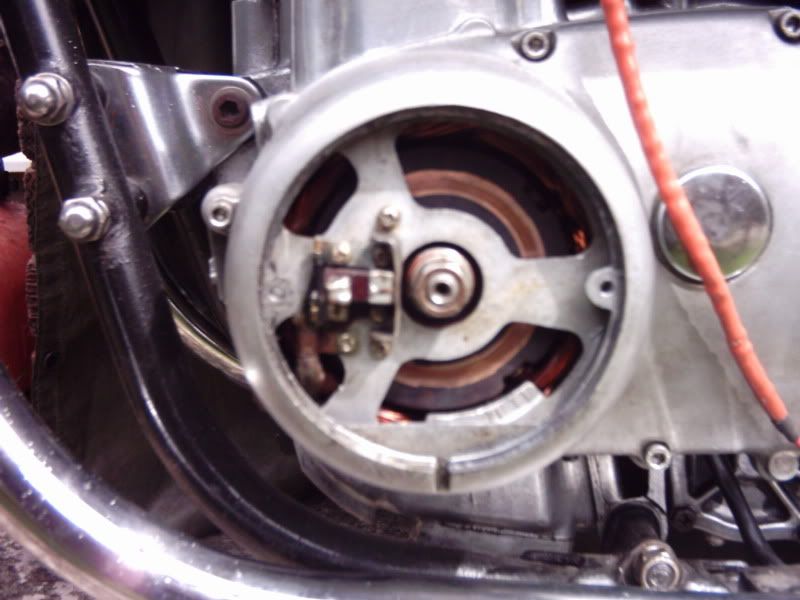 veedub1955 - July 27, 2010 02:12 PM (GMT)
Emailed you over the Newtronics instructions mate for future reference they are
YAM6 model

Looks like it is timed alright (Marking betwenn F & T on the bottom dyno markings)
is TDC then static timing on the Newtronics plate should be so the holes on the
rotor are undernath the optical eyes of the plate, it should spark shortly after the
cutouts have gone under these pickups

See how you get on with moving the baseplates for now, next option is the fueling

PS REMEMBER the optical pickups are infra red so you need to pop the top timing
cover back on when you try and kick it, if sun gets in there they aint gonna work
BeetleBudda - July 27, 2010 05:11 PM (GMT)
i have no idea wot you two are talking about because i know nuffing about bikes.

but, it looks kinda cool brother paul, dont like the wheels, but other than that its very cool.

like your idea of hiding the uber high voltage coil under the seat right by your nads!!! wouldnt want to be riding that in the rain :P

Matt
:UK: ::+::
Trebor13 - July 27, 2010 10:09 PM (GMT)
nice score.
like the lines of the bike.
dreamshack - July 28, 2010 07:46 AM (GMT)
that's rubbish! Tell you what, I will take it off your hands for the price of a beer or two. ;)
It's wicked, makes me want to get on with mine, but not enough hours in the day...


veedub1955 - August 7, 2010 06:47 PM (GMT)
Paul it LIVES!!!!!! Sounds hard as nails I'll try and get a video uploaded for you but as of now I'll think I'll give the next door neighbours a rest haha it's f'in loud !!! :D
Volksrod68 - August 8, 2010 07:33 AM (GMT)
YEAHHHHHHHHHH.... :D :D :D
71bugslug - August 15, 2010 10:35 PM (GMT)
well come on boss - is it running yet ??????????????????
veedub1955 - August 16, 2010 02:02 PM (GMT)
QUOTE (veedub1955 @ Aug 7 2010, 06:47 PM)
Paul it LIVES!!!!!! Sounds hard as nails I'll try and get a video uploaded for you but as of now I'll think I'll give the next door neighbours a rest haha it's f'in loud !!! :D



Yep!
veedub1955 - August 16, 2010 02:14 PM (GMT)
Paul few update pics, handlebar switches are done and wiring hidden (god I forgot how hard thick stainless is to drill by hand), leccy box is mounted and insides nearly completed just waiting for the relays to arrive then I can finish placing the parts inside (all 8 of em in a tiny space lol , fuse box, horn, boyer ignition box, ignition switch, kill switch, headlamp relay x2, horn relay x 1, main relay x 1 should be fun haha, made a plate inside it so there is no visible mounts on the outside for it all), coil is mounted, wiring in basic position, I need you to decide which side the numberplate is going to be and ill run the wire through the frame ready, just need to make a mount under the engine to take the reg/rectifier then cover the wiring source a brake light switch and neutral light, then wire the bugger up :D
Spagetti!!
Spot the switch cable wire!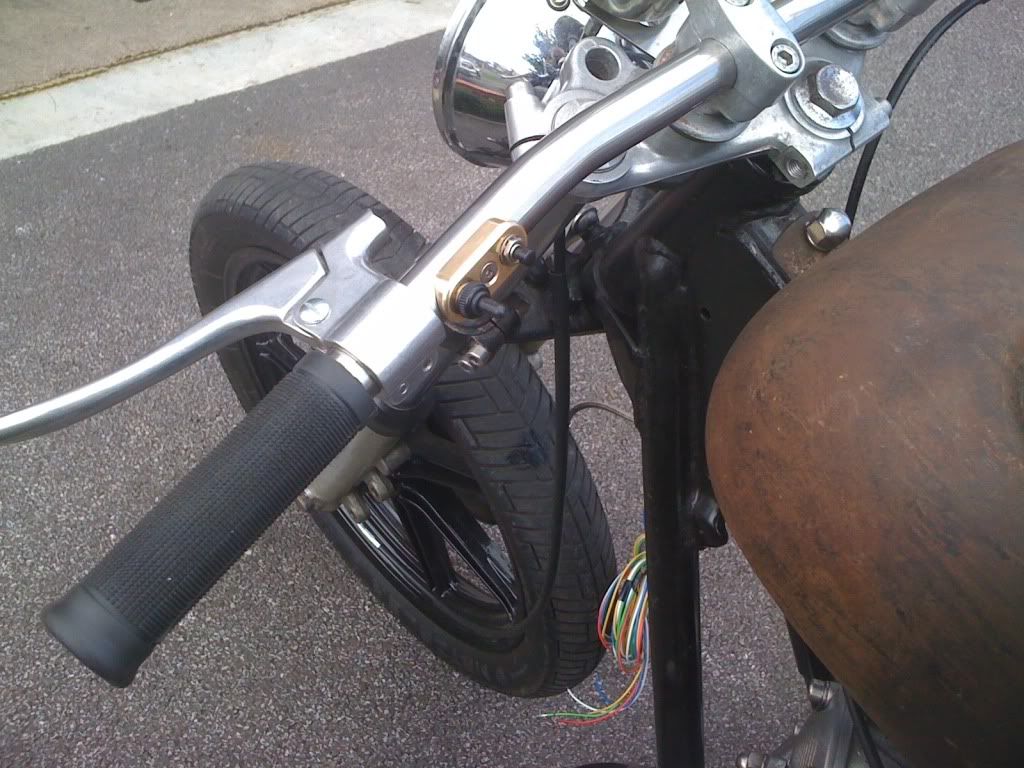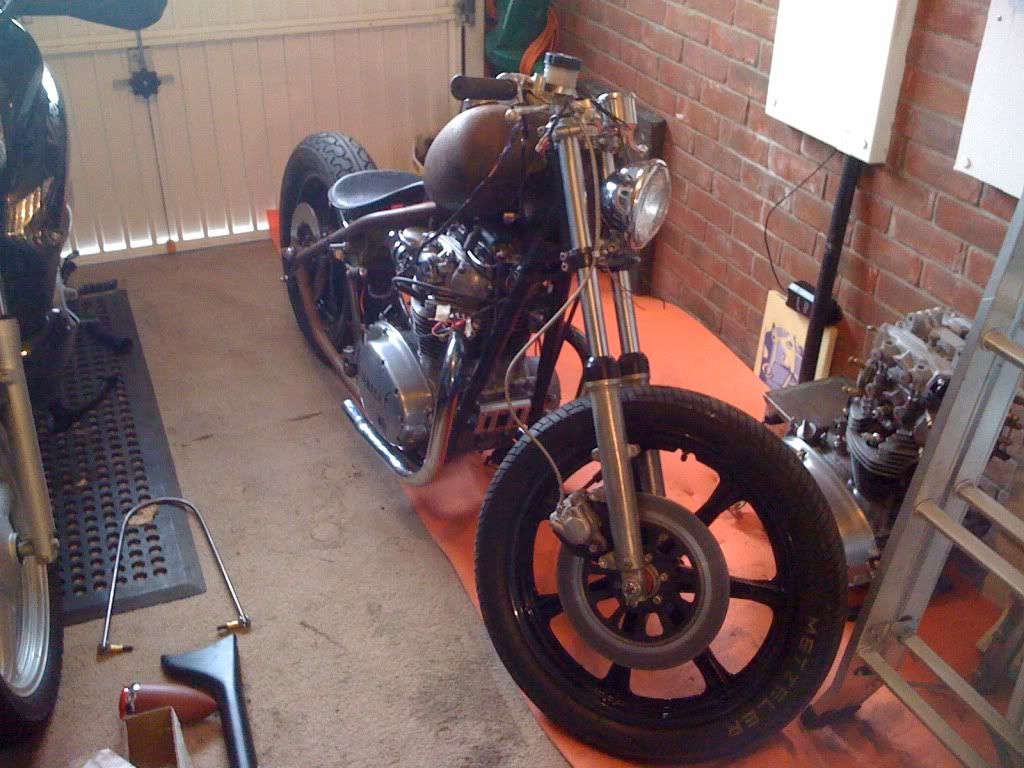 Volksrod68 - August 16, 2010 06:00 PM (GMT)
wow thats fantastic mate...i,ll be running plate opposite side to chain...

looks like youve shrunk a little.. :D
veedub1955 - August 16, 2010 06:06 PM (GMT)
Haha he likes it better than mine, got good taste :D

Tidy I can run the cable now and start wrapping whilst waiting for the bits
71bugslug - August 16, 2010 06:20 PM (GMT)
aaahhhhhhh - i thought you meant yours was running, didnt realise you were doing Pauls too (lazy bugger :D )

looks bloody ace B)
Volksrod68 - August 17, 2010 05:09 PM (GMT)
cheers bugslug...i,m shit with wires mate..
veedub1955 - August 18, 2010 09:04 PM (GMT)
Nearly finished prepping the electric can, Paul wanted all the electrics to be hidden as much as possible. So made a plate to go inside the fake oil can to mount all the bits on, Fuse box, boyer electronic ignition, horn, main power relay, horn relay, dipped headlight relay, main beam relay, ignition barrel, kill switch, this allowed everything to fit inside so that there would be no ugly unsightly holes and mounting bolts on the outside, it all fits together tightly with 2 x brass 10mm head dome nuts, bit of a squeeze but well worth the effort. Also got the relays today so wired up all the live feeds so that I can then run all the external circuits straight to the inside of the can cutting down on external cable, the main loom on the outside now consists of 6 main circuit feeds inc warning lights and 5 low ampage switching wires to the front of the bike and 2 side and break light wires to the rear, everything else is wired inside the can, dont worry about all the wires being red paul every one wired up so far are just fused lives, all the circuits outside are all colour coordinated, ill be doing a proper wiring diagram for you and also do a breakdown of each separate circuit. All the relay switching is done via earths, this is because the main switches are on the handlebars and the electric can and could be prone to short circuiting, this will then only switch the circuit on but not blow any fuses, enabling you to get home if anything goes wrong :D Also mounted the fuse box so that you can remove the oilcan filler cap and check your fuses and replace them through the hole (unless uve got sausage fingers that is :lol: )
beelzedub - August 18, 2010 09:43 PM (GMT)
::+:: ::+::

very neat work Nick. nearly finished then. :D

::+:: ::+::
Volksrod68 - August 18, 2010 10:02 PM (GMT)
shit mate thats loads neater than i imagined...exelent work .. :clap: :clap:
veedub1955 - August 21, 2010 06:05 PM (GMT)
Finally got all the parts mounted ready to run the wires to, being holding off wrapping till everything was in place. First pic had my head scratching for a while, Paul didnt have a brake light switch apart from a rear one, but with his being pre 86 you only need a brake light switch to either the front or rear, with rear ones being fug ugly taking up lots of room and looking cluttered decided to go for front one, unfortunately there wasnt one for the front brake lever and as front master cylinder is actually off a suzuki, but i couldnt find one anywhere to fit the wierd fitting, so couldnt work out what to do, the rear one really wasnt an option, eventually found this natty thing, its actually the bolt for a banjo fitting common to all bikes with a switch built inside it, looks way neater than standard and works a treat. Second pic is the regulator, this too is a bulky ugly thing, but unfortunately could fit it inside the oil tank as it needs to be air cooled as it heats up to get rid of unneeded voltage, so made a plate and mounted it under the engine where the starter motor used to be, so its now invisable but still can be cooled and is out of the way from any damage. Now I can finally start wrapping then get the oil tank leccy box wired up (which is going to be fiddily to say the least :D)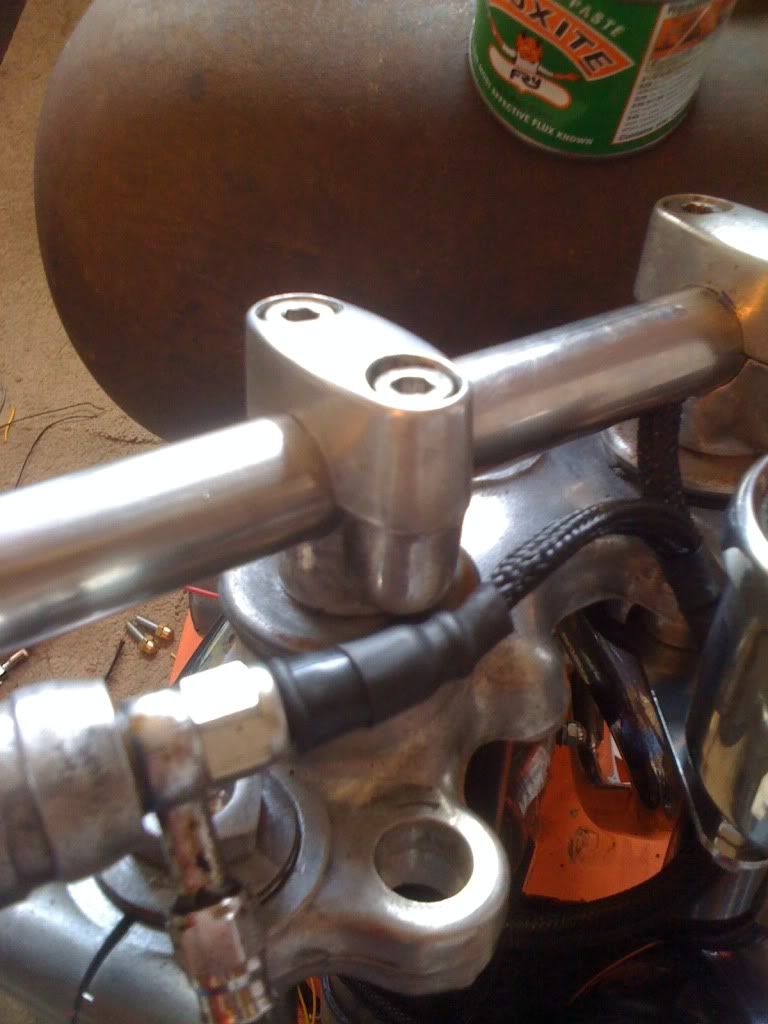 Volksrod68 - August 23, 2010 03:35 PM (GMT)
bob65 - August 29, 2010 04:26 PM (GMT)
Looking the dogs Paul. B) B)
Volksrod68 - September 5, 2010 07:23 AM (GMT)
a massive thankyou to nick..picked my bike up yesterday and the wiring really is fantastic...a true friend...cheers mate...
veedub1955 - September 5, 2010 09:59 AM (GMT)
Glad your pleased with it mate, really enjoyed our chat wish you lived closer, can't wait to see it on the road and riding with you, need to pull my finger out now
veedub1955 - September 5, 2010 05:33 PM (GMT)
Last few pics for your records Paul
Axle spacers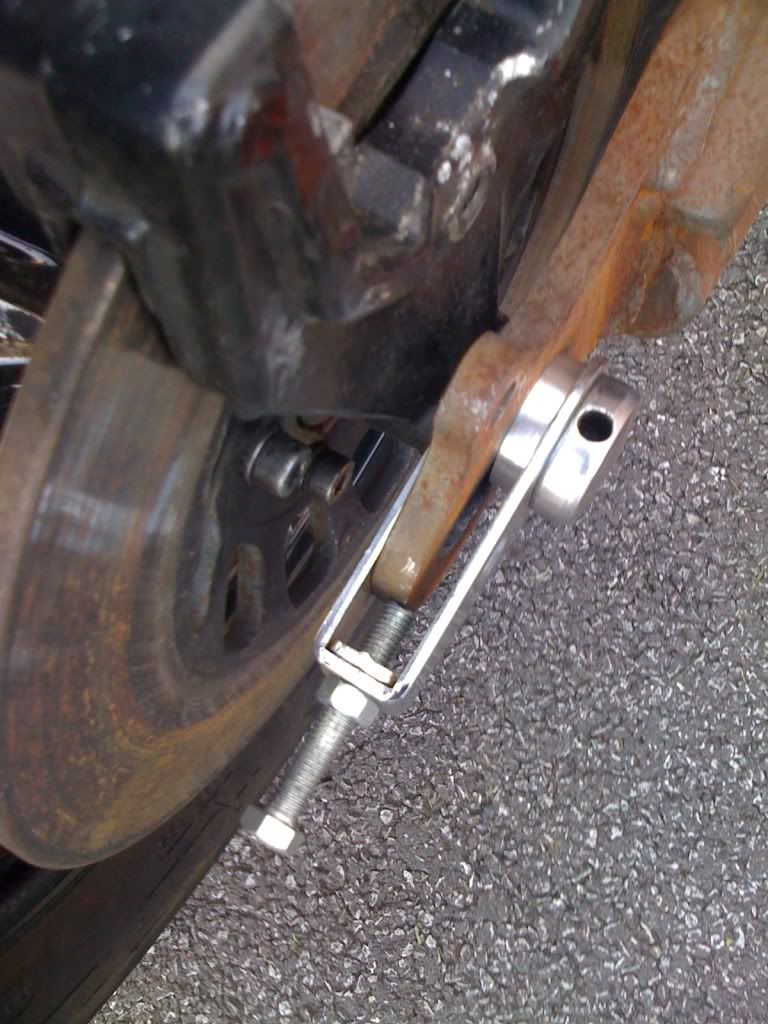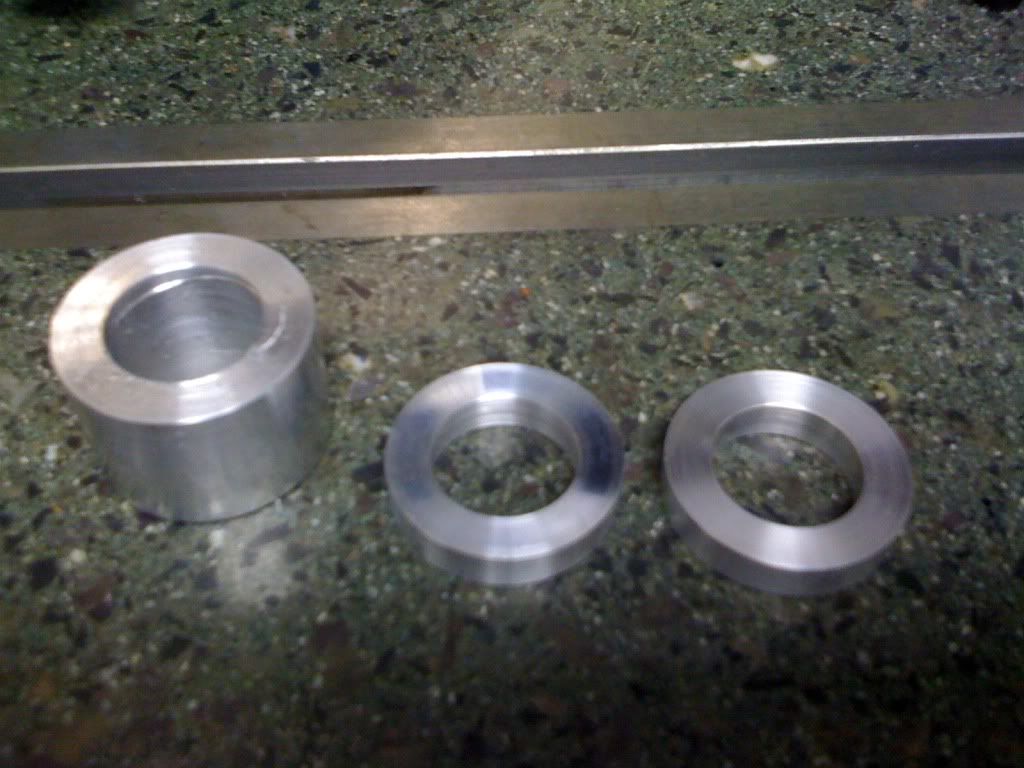 veedub1955 - September 5, 2010 05:35 PM (GMT)
Last few pieces of spagetti before cable tying and then cramming it into the leccy
box with a big crowbar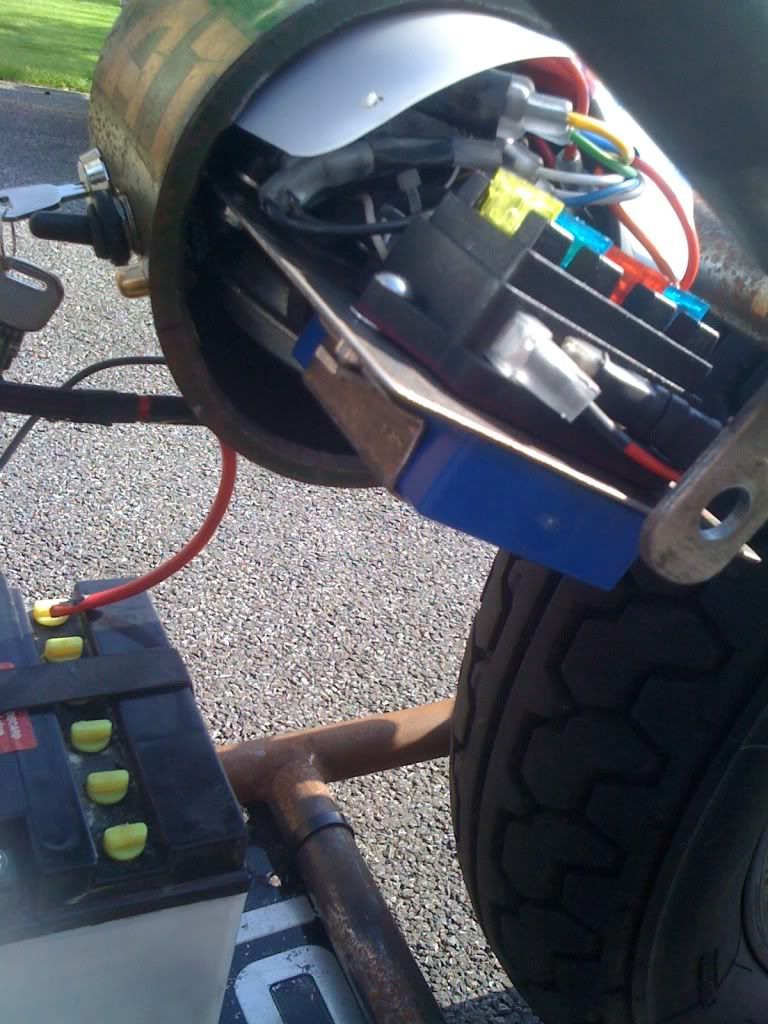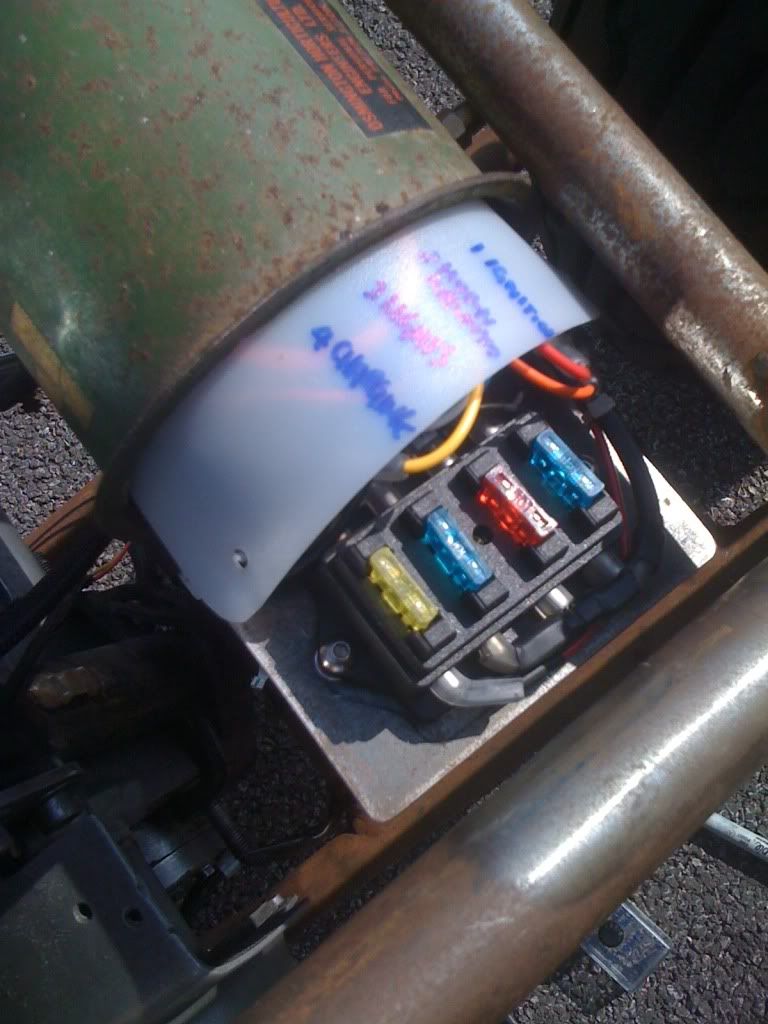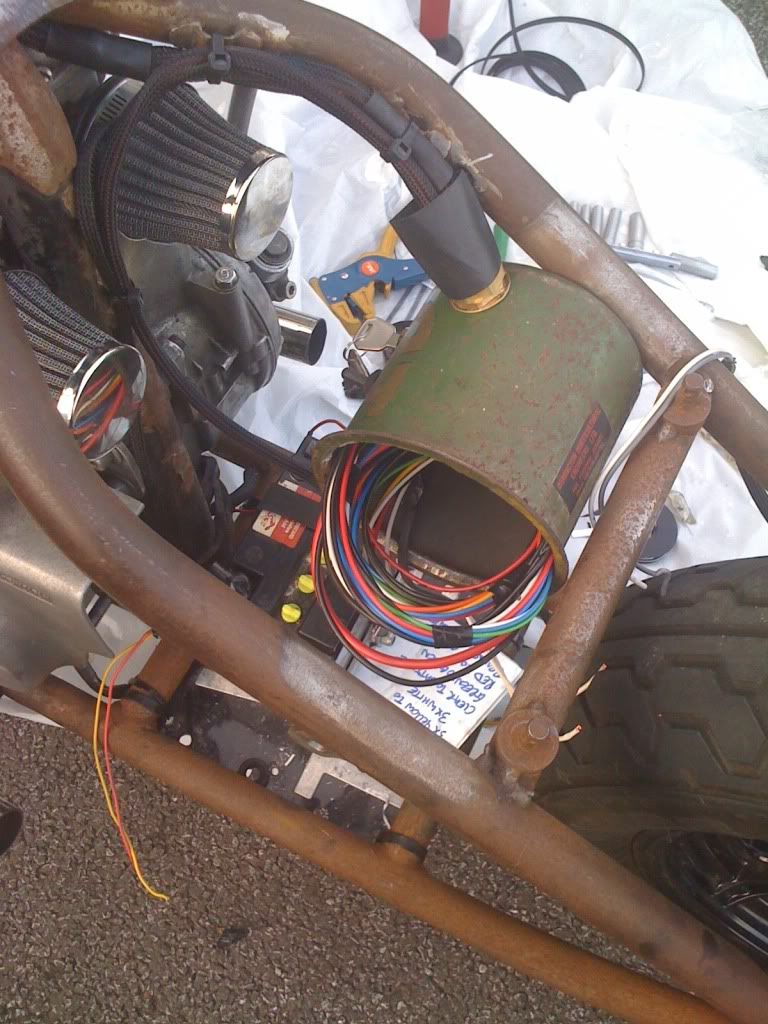 veedub1955 - September 5, 2010 05:42 PM (GMT)
Scribbled the wiring down on a piece of paper and now in the process of drawing it out on
the PC then Ill email them to you Paul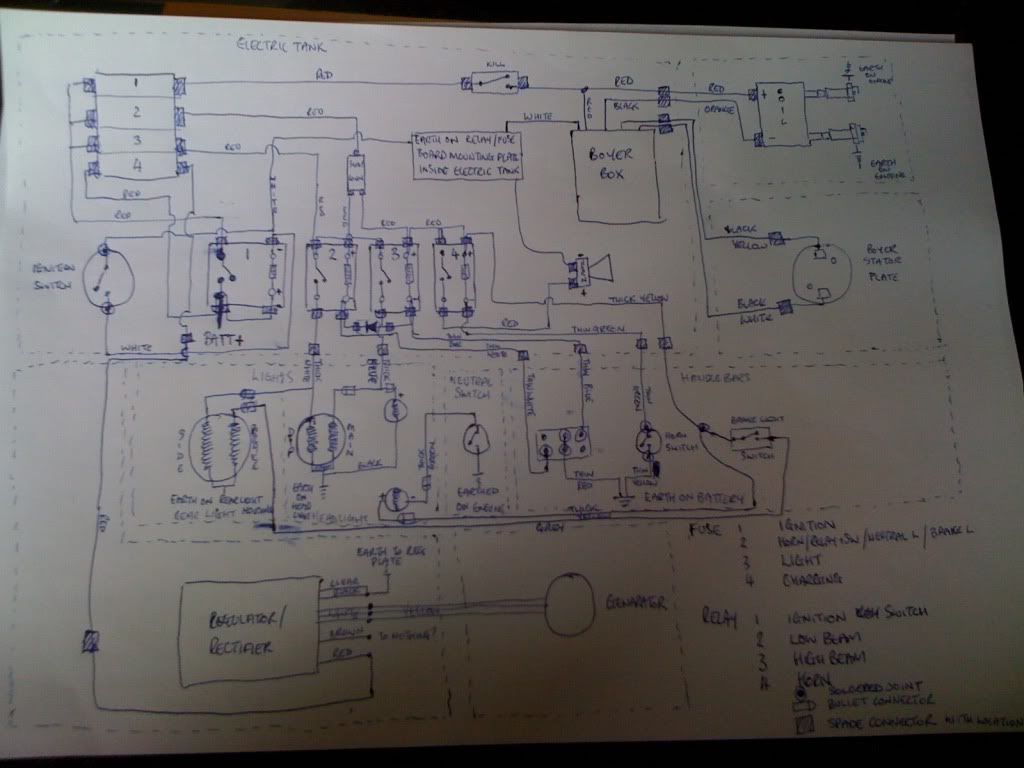 veedub1955 - September 5, 2010 05:44 PM (GMT)
And finally the big man himself, over to you now Paul :)
Volksrod68 - December 19, 2010 11:42 AM (GMT)
well its just about done...rear brake made really pleased how it came out...fitted rear mudguard and covered it in vinegar and salt to age and match rest of bike...rear brake light and numberplate fitted.....need two brackets welding on for the seat.....but....still having trouble with it ticking over ..have to keep knocking carbs with hammer to free up the float needle, or strip it down clean it then its fine ....have a ride on it then your back to running probs......sooooo, ive bitten the bullet and ordered brand new carbs from the good ol us of a.....this should sort it and it should tick over nicely....if not a litre of petrol and a match....still very busy with new buissness and getting very bored of the shite weather...bus hasn,t moved in three weeks.....
veedub1955 - December 19, 2010 06:28 PM (GMT)
You should have said Paul, I could have stripped them I havnt any complete carbs for myself yet but loads of bits, those float needles are a pain arnt they both sticking and leaking once you turned on the taps, did you buy roundslides, it will go like shit off a shovel if you have

Could I buy your old carbs off you when you get your new ones? Post some pics up when you can :)
Volksrod68 - December 20, 2010 05:10 PM (GMT)
34mm mikuni roundslides......mmmwwaaaaaaa....

you can have my old carbs mate...i,ll bring em round on my bobber, n have a cuppa..

just bought an r6 for work next year...silly winter pricess...i don,t think my back could cope with the hard tail everyday....be good to blat to work and back....no traffic... :D
veedub1955 - December 20, 2010 05:20 PM (GMT)
Ohh nice one, will go like shit of a shovel, they are regarded as the best carbs you can get for them
should go well with the 750 conversion, maybe thats why the others wernt that good for it

Youve definitely gotta come down for a cuppa on it :D and ill give you some cash for them, you can have a
laugh at the aprilia i crashed, R6 will be a great fun bike for a blat, post some pics up of the xs soon as mate
beelzedub - December 20, 2010 06:18 PM (GMT)
come on Nick share the crash pics. ::+:: ::+::
veedub1955 - December 21, 2010 06:05 PM (GMT)
You can have one but thats all Ive got till I can move it out of the garage
lol, mate took this on his phone when he pushed it into the garage for me
when I was in hospital, its not moved since what you cant see is the rear
subframe bent over and the rear can squashed, smashed lcd dash and bent
clipons, all in all £3800's worth of genuine aprilia parts £1200 just for the
cracked plastic tank :blink:
Other pic is my locker at work that greeted me whe I got back, ripped :D
Volksrod68 - January 2, 2011 01:39 PM (GMT)
bit pissed off really..fitted the new carbs and now nowt....first fitted the carbs and one flooded when i put petrol on...tapped it and sorted,,,kicked it up ..without chokes on..third kick jumped into life ..for about three seconds then nothing...

choke on or off nothing...fcking sweating trying to kick it..took out spark plugs suoaking with petrol...so burnt off petrol still nothing...

i,m going to empty carbs of petrol..clean spark plugs then kick up again with both chokes on....i,m a bit down hearted though...i may be fitting a starter motor yet...
this kick start is killing me....
veedub1955 - January 2, 2011 02:50 PM (GMT)
Could be low battery Paul, put it on charge a bit, specially with cold weather, fuels
getting there cause plugs are wet, the boyer brain needs at least 8volts to work..
good luck remember im on the end of the phone, and yeah kick start sucks when
not running properly but sweet when setup, hang in there buddy
Volksrod68 - January 3, 2011 12:55 PM (GMT)
SHE LIVES.....i,d connected two airpipes wrong so it wasn,t sucking...it fires real easy...only running on choke as they need balancing now...but it runs real nice...

bob65 - January 14, 2011 12:21 PM (GMT)
Looking the dogs danglys there Paul. Any updates and pics. B)
Volksrod68 - January 20, 2011 09:35 AM (GMT)
eyup bob...gonna have a mess this weekend mate..hopefully sunday..got sean down on saturday for mot on murphy so the donny slammers are all meeting down the mot station..gonna scare tommy into passing it...

had no free time, its adopted a wiring fault but i think something has just shook off its a hard tail so if its not bolted and glued it will fall off...

ive been wanting to get on it buts its dark when i get in..and you need a bit a light in that oil tank to see with my old eyes...lol...

ive test rode it and fck it flies...need next jet size up for it to really run well...

i,ll keep you posted mate..

paul..
tilehurst7 - May 6, 2011 10:16 AM (GMT)
Isnt that Jidderbugs Number plate on the bottom of the frame????

Yes, im a spotter. lol
BeetleBudda - May 6, 2011 06:10 PM (GMT)
well spotted,

pauls a tight arse and never throws anything away :D :D

Matt
:UK: ::+::