Welcome to Unfinished Fairytale! This board is dedicated to the pairing of Todd Manning & Blair Cramer formerly from One Life To Live & now on General Hospital! We also support the actor Roger Howarth & the actress Kassie DePaiva who portrays these amazing characters!!!

If you have any questions or concerns don't hesitate to send an administrator or moderator a PM & have fun posting!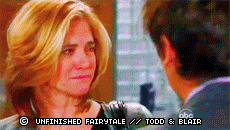 March 6th, 2012
Board Banner, Board Buttons & Affiliate Button Credit To: Amanda @ Blurred Lines!

Thanks To CERISE @ Caution 2.0 For The Pips!

Sidebar: Dana
Coding Help: RCR

Active Stats
Total Cumulative Posts
60 ( 12.99% of total forum posts )
Posts per day
0.1
Joined
23-October 11
Last Activity:
Jun 15 2012, 11:25 AM
User's local time
May 19 2013, 03:58 PM

Communicate
Email
Click Here
AIM Name
No Information
ICQ Number
No Information
Yahoo Identity
No Information
MSN Identity
No Information
Personal Message
Click Here

Information
Home Page
No Information
Birthday
No Information
Location
No Information
Interests
No Information

Posting Details
Member Group
Admin
Member Title
Administrator
Avatar
Signature
this light is too bright made by Lenore of red carpet & rebellion, Studio Circus and Shadowplay.