Welcome to Unfinished Fairytale! This board is dedicated to the pairing of Todd Manning & Blair Cramer formerly from One Life To Live & now on General Hospital! We also support the actor Roger Howarth & the actress Kassie DePaiva who portrays these amazing characters!!!

If you have any questions or concerns don't hesitate to send an administrator or moderator a PM & have fun posting!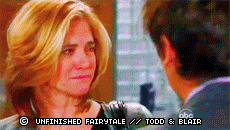 March 6th, 2012
Board Banner, Board Buttons & Affiliate Button Credit To: Amanda @ Blurred Lines!

Thanks To CERISE @ Caution 2.0 For The Pips!

Sidebar: Dana
Coding Help: RCR

this light is too bright made by Lenore of red carpet & rebellion, Studio Circus and Shadowplay.