align=center]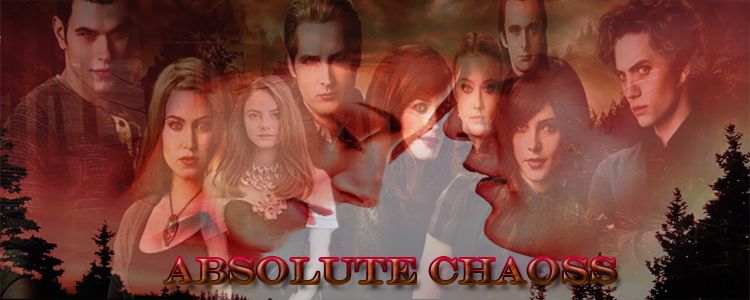 JOIN
|
RULES
|
PLOT
|
CANONS
|
ADVERTISMENT
[/ALIGN]
CHAPTER ONE
YEARS HAVE PASSED SINCE THE CLOSE CALL TO A BATTLE IN EDWARD AND BELLAíS MEADOW, AND THE CULLEN FAMILY HAS FINALLY BEEN ABLE TO RELAX ONCE MORE. THEIR SMALL TOWN OF FORKS, WASHINGTON, HASNíT BEEN BOTHERED IN YEARS, AND THINGS ARE GOING QUITE WELL. RENESMEE IS GROWING UP, JACOB AND EDWARD HAVE FINALLY STARTED TO GET ALONG, AND EMMETT AND ROSALIE HAVE EVEN CONSIDERED ADOPTING A BABY OF THEIR OWN. EVERYTHING IS GOING SMOOTHLY AS THE COVEN LIVES QUIETLY OUTSIDE THE TOWN LIMITS OF FORKS, AND SOMETIMES RECEIVES VISITS FROM THEIR VAMPIRE FRIENDS WHO HAVE BEEN SUPPORTIVE OF THE FAMILY. ALL IS WELL.

IN LA PUSH THINGS AREN'T AS WELL, SAM AND JACOB HAVE BEEN FIGHTING FOR THE TITLE OF PACK LEADER, THERE IS SO MUCH ATTENTION BETWEEN THE PACK. SAM DOESN'T LIKE THE FACT THAT JACOB IMPRINTED ON BELLA'S DAUGHTER, HE DOESN'T WANT TO STEP DOWN FROM LEADING THE PACK. JACOB IS SURE HE WOULD LEAD BETTER THEN SAM, THE PACK MEMBERS DON'T KNOW WHICH SIDE TO CHOOSE OR WHO TO PICK AS THEIR LEADER, LEAH FINALLY IMPRINTED ON A HUMAN WHICH HAPPENED TO BE SAM'S COUSIN.

IN VOLTURI ARO HAS BEEN GATHERING MORE PEOPLE FOR HIS COVEN, ARO IS ALSO FASCINATED WITH THE HYBRIDS. IT'S RUMORED ARO CREATED A HYBRID OF HIS OWN, IT'S ALSO RUMORED THAT THE HYBRID ESCAPED FLED VOLTERRA, NO ONE KNOWS WHERE IT IS BUT ARO HAS HIS GUARDS OUT SEARCHING FOR THE HYBRID. ARO, CAIUS AND MARCUS HAVE ALSO BEEN COMING UP A PLAN TO DESTROY THE CULLEN'S. THEY ALL AGREE THEIR COVEN HAS GOTTEN TOO BIG AND THEY HAVE REBELLED TOO MUCH, THEY NEED TO MAKE AN EXAMPLE OUT OF THEM.

TO MAKE THINGS WORSE THERE IS THIS NEW COVEN THAT HAS MOVED INTO THE AREA. THE D'AMORE COVEN, CARNIVOUR VAMPIRES WHO FLED FROM THE VOLTURI BECAUSE OF THEIR GIFTS. THE D'AMORE COVEN COULD START MORE TROUBLE FOR THE PEOPLE OF FORKS, AND THE CULLENS.

WILL THE CULLEN'S BE DEFEATED OR WILL ARO BE OVER THROWN, WHAT WILL HAPPEN TO THE HYBRID? WHO IS THE HYBRID AND WHAT EXACTLY IS ARO PLANNING?
ABSOLUTE CHAOSS

WE ARE POST BREAKING DAWN RPG, WE HAVE FRIENDLY STAFF WHO ARE WILLING TO HELP WHENEVER THEY CAN. WE HAVE A LOW WORD COUNT 300, BUT ENGOURAGE MORE, AN EASY APP, AND TONS OF CANONS OPEN! SO COME AND TAKE A LOOK, AND MAYBE YOU'LL LIKE WHAT YOU SEE.
AFFILIATION BUTTON:

<A HREF="http://z13.invisionfree.com/AC_revamped/index.php?act=idx/"><IMG SRC="http://i803.photobucket.com/albums/yy314/taubetaoboist/AC-Affie.png"></A>