C
haracter
B
asics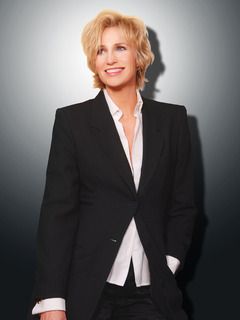 Full Name:
Julia Beatrice Klighton
Alias:
JuJu, JB
Status:
Ithaca
Date of Birth:
September 27th
Age:
52
Occupation:
Vice President of the United States
P
hysical
D

escription

Physical Description:
Julia is very tall, skinny, she prefers to keep her hair short. She doesn't wear a lot of make up, because she doesn't want to look like a dime store whore. Mostly, she only wears suits. On the rare occasion that she does wear a dress, people think the apocalypse is coming. Funny thing is, she was wearing a skirt the day the world ended. Julia walks tall and confident, she rarely ever slouches.
Play by:
Jane Lynch
C
haracters
P

ersonality

Personality:
When she needs to be, she's very serious and on top of things. Those who are closest to her can see her fun side, pervy side, and just plain inappropriate side. People in her administration, mostly the cute men, know that when she's coming they need to turn their butts away from her reach. Some would call this sexual harrassment, she calls it intimate banter and total appreciation of the male form. Julia, despite her fun and wacky personality, can be very vindictive and well, a complete bitch. If you wrong her, you're in for it. She was highly vindictive to the President for giving her the demeaning job of VP as a slap in the face she didn't make it on her own. She even went as far as to glue the president to his fancy oval office chair his first day in office. Julia also has a sweet side; the side that loves her country. She would do anything to make her country what it once was again, which is the only reason she took VP in the first place. Her patriotism has no bounds.
Likes:
*Peanut butter and Jelly in the same jar
*Butts
*Working Out
*America
*Britney Spears (but shhhhh, she'd never let anyone know that)
*Butts
Dislikes:
*Unpatirotic assholes who complain but don't vote or do anything to better their country
*Losing
*Homophobia
*Tuna
*Being lazy
C
haracters
F

amily

Mother:
Hilda Klighton
Father:
Dennis Klighton
Siblings:
Penny Klighton Mansfield (Deceased)
Children:
None
Other Important Figures:
Long time boyfriend Mark Cambridge
Personal History:
Julia had had a rather perfect life up until she was a teenager. Both of her parents were highy successful in business, and gave her the first real taste of how far she could go in her life. They were very supportive of her dreams and always supported her love of politics (even though they were complete opposites in their political views. Where Julia took a more liberal approach to everything, her parents were very conservative. It was when she was a teenager that her sister Penny came out and the whole family seemed to start to unravel. Penny was 3 years older than her, but they were close as close could be. With no support in the home, Penny ran away from home just before her 18th birthday. Julia, only 16, was devestated. She didn't think anything could get worse. It wasn't until she came home from school and saw the police at her house, that she found out it could get worse. Her sister had committed suicide by driving her car off of a bridge.
Julia was never the same after that. Even when she started to delve into politics more thoroughly, there was always a twinge of emptiness constantly inside her.Her grades didn't suffer however, she still graduated top of her class from High School and went into law at Stanford University. Julia fit well into the college life, even though she went to a few too many parties. It wasn't until she was able to be an intern for a local senator's race, that she really knew she wanted to be a politician. It was the best experience of her life. After graduating, she became a lawyer for a few years back home. She wasn't that happy with it. It didn't take long for her to start trying to run for smaller offices. First it was City Treasurer, then it was Mayor. She remained as Mayor for near 10 years when she decided it was time to try to see the bigger picture. She successfully ran for Senator and served just as successfully in Washington. Her boyfriend Mark Cambridge came with her and worked in Washington as well. He'd tried to marry her a thousand times, but she just wouldn't do it.
She ran for President of the United States almost to the very end. The gap between her and the President in the primary election was only a decimal point. For nearly 6 months, she was the bitter loser, knowing how close she had been. There was a part of her that wanted to strike down on him with a recount, but she didn't want to embarrass herself. She humbly stepped back with her concession speech and tried to go back to normal life. That didn't last too long before getting a call from the soon-to-be President's election team, telling her she was being considered for his running mate. She wanted to make history being the first woman President. Mark reminded her many times if she took the offer to be the runningmate, she could still make history. With a heavy heart, she humbly accepted the position and went right on the campaign trail with Mark by her side.
After the Election just after moving to the Vice President's residence, she was told about the project "Ithaca". Her interest was peeked and with a lot of discussion with Mark about being away, she decided to go ahead with it. She barely got her feet in the water with it when the floods hit. The geologists and others who had been keeping tabs on the environmental changes previous to the storms coming, made her nervous. She stayed there as much as possible to help. When things started to really shift however, she made one last phone call to Mark. Their conversation and the "I love you" given was cut short as the floods took over. She knew before having to be told they were not only trapped in what she could only imagine was a water world, but everyone was gone. Her country, that love, Mark, her family was washed away with the tides. She was now the most powerful woman in the world, literally, and a few tons of bricks landed on her shoulders.
The people down below looked to her for guidence and she realized this was her time to shine. It was up to her to figure out how to get them out and hopefully find a place for them that was safe and to survive in. They had enough food and whatnot to last a fair while. She needed to step up to the plate to make sure it lasted longer than it should.
R
oleplay
S

ample

Roleplay Sample:A

bout
T
he
A

uthor

Name/Alias:
Sommer
Age:
[we are an 18+ roleplay!] 29
Guy or Gal?
Gal
Other Characters:
James Wittcomb, Taryn Walters, Anders Vincent, Cassie Wittcomb
How You Found Us:
Magic Unicorns