Title: TimJ's Inaugural RevellAtions GB
TimJ - July 26, 2011 08:54 PM (GMT)
I'll be starting off with a Focke Wulf 'Flitzer'. I have done a bit of painting in the 15 years since I bought it but as far as assembly is concerned it is untouched by glue of any kind. :D

Considering the size of my Revell stash I dare say there may be something else coming along after.
TimJ - July 27, 2011 05:02 PM (GMT)
Time for some pictures before the off.
Boxtop...
sprues....
instructions....
decals and canopy.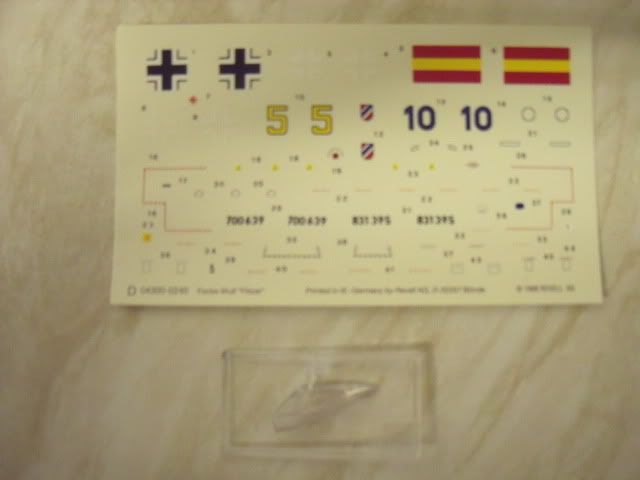 I haven't decided on a colour scheme yet but I'm thinking of RLM82 and RLM83 over either RLM76 or RLM84.
DH764 - July 28, 2011 10:20 PM (GMT)
The "greens" finish will look good on this Tim ...did mine in the 74/75/76 scheme ...but hey its a Luft46 (well about 44/45 TBH) so anything goes :)

Andy
TimJ - August 1, 2011 10:37 PM (GMT)
I made a start (restart?) this evening. The cockpit interior is complete apart from the seat.
The wings and booms have also been assembled and the tailplane fitted to the booms.
Its all going together well so far.
Johni044 - August 1, 2011 11:18 PM (GMT)
Good start Tim, never seen one of these before.
Beowulf Shaeffer - August 1, 2011 11:25 PM (GMT)
the flitzer is a great little kit....done a couple and still have ideas for more :D
CPNGROATS - August 1, 2011 11:51 PM (GMT)
Luft '46, a lot of interesting concepts here..! Flitzer est zur gutt..!!

Cheers,

Uncle Otto
TimJ - August 3, 2011 10:17 PM (GMT)
It is a nice little kit. If I knew it was going to go together this well I'd have finished it years ago. :D
I painted the seat and instrument panel this morning and fitted them to the cockpit.
After joining the fuselage halves together and giving it time to dry I fitted the wings and tail assembly.
The nose and underside wing to fuselage joint needed the smallest amount of filler which was probably more down to me than the kit. At this rate it'll be finished in the next few days.
What can I build next? :hmm:
cjs65 - August 4, 2011 11:17 AM (GMT)
Yet another aircraft I'm not familiar with, looks like an interesting one. Great work so far. :clap:
Arrows - August 4, 2011 11:31 PM (GMT)
Ah, das Flitzer. Ja, das ist sehr kalt, er, cool. B)
TimJ - August 7, 2011 10:48 PM (GMT)
After sanding and priming I've been applying the camouflage over the last couple of days. The undersides have had a couple of coats of RLM84 while the upper surfaces are RLM82 and RLM83.
I just have to paint the canopy frame and do some mottling and then it'll be ready for decalling.
thomasweir - August 8, 2011 09:38 AM (GMT)
TimJ - August 10, 2011 10:42 PM (GMT)
After a light mottle and a few coats of Klear I applied the decals today. Swastikas were taken from my trusty Almark sheet.
The underwing crosses were slightly out of register so I may have to touch them up.
DH764 - August 11, 2011 06:20 PM (GMT)
Great job Tim :thumb:
I found the undercarriage a bit tricky to fit because they are just a butt join ...no locating pins. I used thick CA to join them.

Andy
lolwatson - August 14, 2011 02:43 PM (GMT)
Nice stuff! Looks like you're almost there with this one.

Lol.
TimJ - August 14, 2011 10:31 PM (GMT)
I've got the undercarriage fitted today. As Andy (DH764) said it was tricky but I got round the problem by fitting the main undercarriage doors first and sticking the legs to them to hold them in place.
I've also fitted the armament and pitot to the wings.
I just need to give it a coat of flat varnish tomorrow to finish it off.
DH764 - August 15, 2011 05:21 PM (GMT)
TimJ - August 17, 2011 10:28 PM (GMT)
After a bit of touching up and a couple of coats of matt varnish I finished the Flitzer today.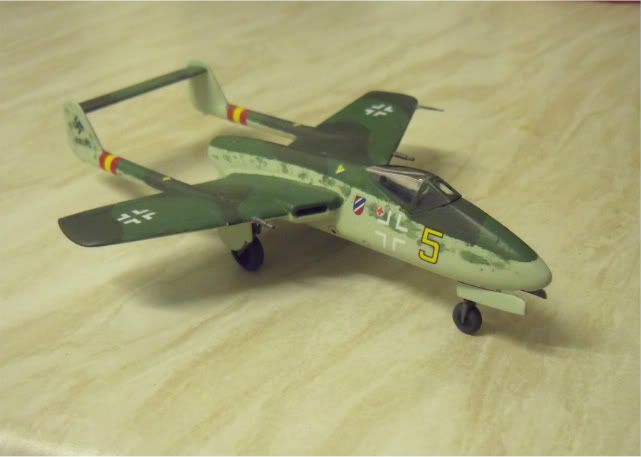 More pictures in the Gallery.
Beowulf Shaeffer - August 17, 2011 10:39 PM (GMT)
nice :D

always liked this little kit
Dirkpitt289 - August 17, 2011 11:07 PM (GMT)
Now that looks sharp :coolio:
lolwatson - August 27, 2011 02:15 PM (GMT)
Very nice! A great looking finished model.

Lol.