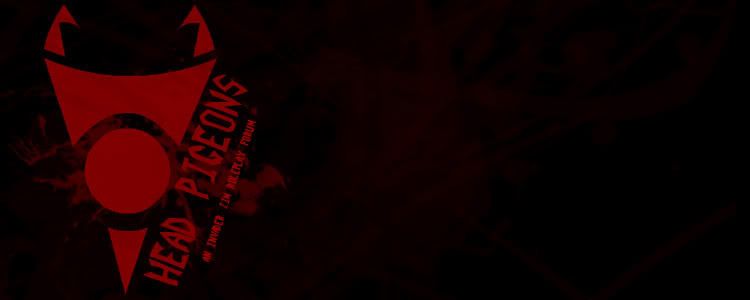 Fully Featured & Customizable Free Forums

Welcome to Head Pigeons. We hope you enjoy your visit.


You're currently viewing our forum as a guest. This means you are limited to certain areas of the board and there are some features you can't use. If you join our community, you'll be able to access member-only sections, and use many member-only features such as customizing your profile, sending personal messages, and voting in polls. Registration is simple, fast, and completely free.


Join our community!


If you're already a member please log in to your account to access all of our features:


Disobedience [Purple/Closed for now]
Tallest Red


Service Drone


Group: Admin
Posts: 39
Member No.: 2
Joined: 27-December 11





No one expected a trail to be called for them.

As the screen died before them, becoming a mirror reflecting nothing but their solemn faces – he felt that same drowning, black feeling washing over him. A sickness gurgled in his gut, but it felt translucent – as though did not belong to him, as though it could not belong to anyone. He didn't feel real. He didn't feel right.

A string of guilt pulled tight his throat. It felt dry, as though great mountains of dust had come to settle there for a millennia of silence – and yet he was the man full of speeches and words, always able to talk his way out of any situation or at least order some form of retribution. Yet now he felt choked, able only to express himself by the slow turning of his head towards his co-ruler.

His eyes, red and raw as a dying star, seemed extinguished. Whatever charming flame had once been there was gone, whatever half hidden smirk he had once worn was turned into a frown set so deeply on his face. Whatever confidence he had was shattered now, and for a moment – or more than a moment, his eyes seemed resonate nothing but fear.

Finally, the canyon opened and he managed to outpour the only thought he could let flow, and oh, how bitter it tasted on his mouth, "We're gonna die."
Tallest Purple


Smeet


Group: Admin
Posts: 18
Member No.: 3
Joined: 27-December 11





As the transmission ended, he felt himself pulled apart by conflicting emotions. Strange, he thought he'd feel scared. He'd known this was coming if he was honest with himself. All he felt now though was anger. Anger, yet emptiness.

He wanted to scream at the screen; to turn to the other Tallest and verbally tear apart their soon-to-be executioners. But he couldn't. There were no words. None but the ones from the throat of his companion.

That voice made it concrete. Ah, there it was. Now he was scared. It didn't quite dispell his denial though. This wasn't the end. It couldn't be. They had a trial. And if Irken trials were anything, they were...

Effective.

He looked at the other, biting his upper lip. He almost wanted to blame him, but deep down he knew that it was as much his own fault.

Both of them had only done what they had to. It wasn't fair.

"We ... The trial." he said, forcing himself to grab hold of his thoughts.

"We can explain." Failing to convince himself.

"And we have a clean slate." As if it really mattered.
Tallest Red


Service Drone


Group: Admin
Posts: 39
Member No.: 2
Joined: 27-December 11





This... Silence was getting rather grating. Even the pilots seemed tense, not even playing Asteroids as they seemed to just wait and listen to whatever was said.

After all, they could have a new whip at their backs any day now.

Twenty four hours had been lain out before them, and the ship was already on course for Judgementia. Twenty four hours left on this floating hive before they were shown to be nothing more than puppets on strings who could no longer walk when those wires snapped. Twenty four hours for all those thousands spent between them, drained away like the colours in their faces.

"Ha. Yeah, a clean slate," he mused, trying to remain calm. He had to support the other, perhaps as much as he had to support himself. The words he spun were no different now than the ones he had announced at every speech, and he supposed he could weave himself a crown of False Hope from all those little white lies.

He turned, hovering away from the cockpit (heheheeh), he really wasn't in the mood to take any calls now, anyway. It was creeping him out with all those pilots listening in, anyway. "Not that we've ever actually done anything."

He paused, stopping himself in his own bitterness - trying now not to show whatever anger he was feeling towards the Control Brains leak out - that would only be evidence against him, in the end. "Well, actually, I mean, we did you know, start conquering the universe."

Pausing, when he was out of the room, he lay a casual smile across his face, "Hey."

Turning to properly face the other, he asked, "Which one of us do you think they'll delete first?"
Tallest Purple


Smeet


Group: Admin
Posts: 18
Member No.: 3
Joined: 27-December 11





Red didn't sound convinced. Was Purple really surprised? He watched his co-leader waddle hover away from the dashboard. This was going to be a really long flight if they weren't going to talk or anything. He wasn't sure how he felt about that exactly.

He wished he didn't have to spend all the time he had left travelling towards his gallows. What would he do though? How could he invest himself in anything, knowing that it could all be meaningless in hours.

Red spoke. Bitterly. But he was right. The two of them had accomplished next to nothing. They had bossed people around, stood up on a stage; but in the end, any other Tallest would do just as well. All that aside, hadn't they just wasted all of their time since they left the Elite?

He was wrenched from this by Red's dark humour. A grin spread across his face.

"Probably you," he said, waving his hand dismissively. "I can tell they don't like you as much."
Tallest Red


Service Drone


Group: Admin
Posts: 39
Member No.: 2
Joined: 27-December 11





Punching the other in the rib... Spine, thingy - he allowed that grin to grow wider, his usual self exposed again, "Really? I don't know, your popularity score has been really low recently." Not that it mattered anymore, he guessed.

"By recently I mean since forever," he added, recalling rather clearly the two meters that only seemed to grow in difference. Much like their dick sizes. Ha.

"Hey, if they pick you first, you'll finally get more screen time than me, since they'll be pretty bored seeing it happen twice."
Tallest Purple


Smeet


Group: Admin
Posts: 18
Member No.: 3
Joined: 27-December 11





The punch knocked the wind out him a little. Once he could breathe again, his laugh rang through the cockpit, drawing bemused looks from the other staff. Red's further derision didn't stop him either.

"Yeah, but they'll have to do you first," he pointed out, "'cause nobody would bother watching you once I was done."

He stopped laughing after this.

"Do you think," he asked tentatively, "we shouldn't have done this?"

Of course they had to have done it. They had to. Whether or not it was worth it remained to be seen. Unfortunately, probably not by him.
Tallest Red


Service Drone


Group: Admin
Posts: 39
Member No.: 2
Joined: 27-December 11





Yeah. Purple had a point, and on that point he only nodded in agreement - he was sure their ratings would be through the roof. The grin only faded when he noticed the shift in mood. He lowered his eyes, losing himself to thought.

"If we hadn't, we'd be dead by now anyway."

It was her fault more than any, if he hadn't taken her advice... If he hadn't backed up Purple like he always had, so mindlessly and carelessly... If he hadn't fucked up so badly well... It didn't matter now. It really didn't. The control brains would see everything, anyway.

"I guess Invader Spleen might replace us," he mused, "I mean, have you seen the size of his head lately?" He reconciled, "Or, you know, they might only delete one of us. Heh. I was the one who ordered it in the first place."

He clacked his claw nervously against a nearby railing, eventually deciding to lean against it. "I don't think they've ever done this to a Tallest before." Looking down, he let a rather slow smile cut through his face, before he glanced back up towards the other, "You should probably know I deliberately got them to fire lasers in your eye during the ceremony for Operation Impending Doom 2, and I also made them put chilli sauce on your curly fries." God, the sheer AMOUNT of whining that Purple had done at the dinner table that night almost hadn't made it worth it. Almost.
Tallest Purple


Smeet


Group: Admin
Posts: 18
Member No.: 3
Joined: 27-December 11





Maybe he agreed with Red or maybe he just wanted to. Anyone in their places would have done the same. Was it really as necessary as it seemed at the time? The weren't thinking straight back then. Hell, nobody would in that situation. Wasn't it better that they had done something rather than nothing?

He smirked a little at the mention of Invader Spleen. The guy was somewhat of an Irken running joke. Without his enormous head, he'd probably be closer to the bottom of the ladder than the top. Still, tall was tall. The jokes would probably die down now that he was a serious potential candidate for leadership.

That reminded him.

"Say, do you think Invader Tenn survived it?"

That would give him some amount of comfort. He didn't care much for Tenn, or any Invader really. If she was alive though, it would mean that they weren't about to die for nothing.
Tallest Red


Service Drone


Group: Admin
Posts: 39
Member No.: 2
Joined: 27-December 11





"She's good at that,"he merely stated. It was true, really, considering how much she had been through. For a brief moment, he wondered what she was doing. He blinked, drumming his claws again.

"You know," lowering his voice, he hovered away from any potential listeners, putting his hand on Purple's back to draw him closer, "We could do what she probably did."

Pausing, he allowed himself more clarity, "We could run away."
Tallest Purple


Smeet


Group: Admin
Posts: 18
Member No.: 3
Joined: 27-December 11





"WHAT?!"

He clapped his hands over his mouth. A few of the ship's personnel stared. He made a rude gesture at them.

"You know we can't do that," this time more quietly.

"We can't turn the massive around; no one on board is gonna risk their lives for that," he squealed. He had the curious ability to sound loud and hysterical even at whisper volume.

"And all the escape pods are programmed to head for the nearest Empire planet, which in this case, is Judgementia."

He glared.

"You didn't think this through."
Tallest Red


Service Drone


Group: Admin
Posts: 39
Member No.: 2
Joined: 27-December 11





God, sometimes he really didn't know how to control himself. He avoided further physical intervention when he shut his own trap with his mouth - looking over at the staff members who had noticed to grin at them sheepishly.

"Well I've only been given a couple of minutes," he snapped back. Controlling himself though, he hissed, "No one here might risk their lives, but it doesn't mean we couldn't call someone." Smiling a little, he added in jest, wiggling his claws a little, "Or we could kill them. Ha, I know how to fly the Massive you know, because I took that course while you were dealing with your alcohol problems. Remember that? Yeah. That was a weird time."