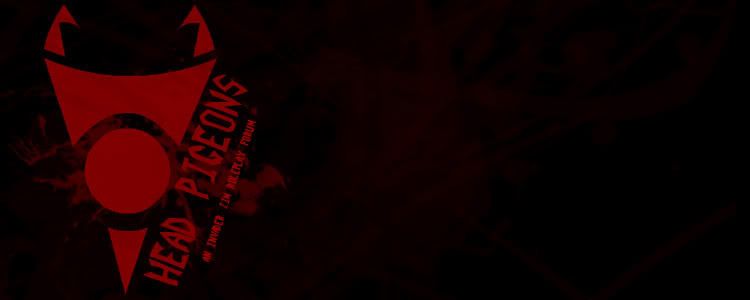 Welcome to Head Pigeons. We hope you enjoy your visit.


You're currently viewing our forum as a guest. This means you are limited to certain areas of the board and there are some features you can't use. If you join our community, you'll be able to access member-only sections, and use many member-only features such as customizing your profile, sending personal messages, and voting in polls. Registration is simple, fast, and completely free.


Join our community!


If you're already a member please log in to your account to access all of our features:


Dib
, Application.
Purnip


Smeet


Group: Members
Posts: 15
Member No.: 15
Joined: 15-January 12





Name

: Dib

Appearance:

The worded description should be around here somewhere...where'd it go? I swear I put it right around where Dib's--oh. Nevermind. Look, a picture!

Personality

: This particular human pre-adolescent is an intelligent one--or at least, he's a genius compared to the swarm of morons he's surrounded by. Ever suspending in the disbelief towards his own race, Dib is hellbent to open the eyes of fellow mankind regardless of man's ignorance. He is highly obsessed with the extraterrestrial and paranormal, despite the fact that no one supports his passion for either of these things. Relentlessly determined to uncover the truth behind the so-called 'inexplicable', he can be easily interpreted as annoyingly persistent, or quite simply, batshit insane. Crazy. Mad. You name it. Whatever you've got, he's heard it all before. It won't stop him. He's not easily discouraged, and he's not going to change because he can't. Even when he stops and begins to think that people may be right about his insanity, he doesn't make an effort to slide back into his mundane society.

He doesn't understand why people assume his head is large. Maybe in a figurative sense it is, but it's no larger than that kid's, or that one's, or the fifty-year old kid who sits in the back of the class. So he'll defend it especially because the validity of this claim is beyond him. He talks to himself when he's really excited, because everything has to be explained aloud or else it didn't happen. Duh. I mean that's...the legitimate...reason why...OH JUST SHUT UP. You do it too.

Dib has a heroic complex to top it all off. Though he'd love to have a partner in crime, he has no qualms with taking on his problems by himself. He's used to it. He loves it just the same. He wants to stop the big bad aliens at all costs, even if he's the only one who cares to save the planet. While it may be assumed that he hates all aliens, the truth is, he's rightfully wary of them and would easily come to trust them if their intentions are just. It won't make him any less obnoxious though. He's always talking, always explaining, and always asking questions. At least he's good at making things. He's sufficiently capable of meddling with technology, human or otherwise. He even has a sense of humor, which often falls into sarcasm.

Until recently devoted to exposing the Irken Invader Zim for the alien he is, Dib has begun to set his sights on the very heart of the Irken Empire itself, having gained a new set of allies with the Meekrob.

Roleplay Sample: Setting: Meekrob Agent Purnip reveals its identity to Dib. This is happening on Earth somewhere vague.

This was, in all likelihood, a regrettable idea. At first, meeting a fellow Swollen Eyeball in person conjured up all sorts of fantastical scenarios in Dib's globe-sized head. A fellow investigator that

believed

him, fighting the Irken threat by his side, applauding him, encouraging him, admiring him! Finally, some recognition of his efforts.

And yet they were to meet in the alleyway beside McMeaties after dark, where no one would stop at the sound of a scream even if it came from a kid getting raped and murdered by an adult.

Risky, yes.

Very

risky. But worth the danger. Dib was confident in his judge of character. He knew little of Agent Spookyfork aside from the fact that he had to get his original codename shortened for being too verbose. He tried to apply with a paragraph-long name that described some contrived nonsense about a fork being tangled in a mobius strip. For months, the new agent asked nothing of him, said nothing

to

him. Then about a week ago, he started sending messages expressing his interest in Dib's research on Zim. The conversation became quickly excited from there, mostly on Dib's part, until last night he exchanged general addresses with Spooky. Not only did they live in the same state, but same city as well! From there, the imminent meeting was arranged--the very meeting that would be happening now. Tonight. Two kindred spirits with a zest for paranormal investigation exchanging

secrets

. Dib wasn't thinking of how he'd defend himself if the agent happened to be a pedophile, kidnapper, or murderer. He was only thinking about gaining a comrade in his fight to save the Earth.

From round the corner, a tall cloaked figure emerged. Dib brightened at the sight of that familiar sillouette.

"Agent Spookyfork? Is that you?"

The boy clutched the briefcase in his hand, stepping forward anxiously.

The figure came forward, but paused with some distance between them.

"Agent Mothman."

Spooky's voice was a lot clearer in person, yet ambiguous all the same. It wasn't feminine or masculine in its tone, but smooth nonetheless, and with any lacking in sinister context whatsoever. So far, very promising. Dib opened his mouth, prepared with an answer, until Spooky rose a hand and resumed.

"No. I know exactly who you are, Dib. This meeting wouldn't have been arranged otherwise, as you'll learn soon enough."

The human's smile vanished, his posture suddenly twisting to something of a defensive nature.

"Wait. How do you know my name? I didn't tell you!...Wait--did I tell you?"

"No,"

the agent snapped, until his voice softened to something of a sigh.

"No you didn't. I figured it out. Your identity wasn't exactly difficult to extract with a father like Professor Membrane. Now I'd rather not waste time on--"

"Hey, that's not fair!"

Dib interrupted, fidgety as ever.

"What's your name then, huh? Huh? I didn't invade your privacy before you got here."

"Well that's your problem, isn't it?"

Spooky snapped back with the same impatience as before.

"If you'd let me finish speaking I--"

"I thought I could trust you!"

"Oh would you shut up already! Do you want me to explain myself or not?"

Judging by Spooky's tone, the other agent's patience was all but gone. Dib decided to give the guy a benefit of a doubt and at least two minutes without an interruption, unless he had a VERY important question to ask. Or two.

"It pains me to turn to you arrogant humans in a time of crisis, but your research will prove invaluable to us and our resources have reached their limits. The Irken armada is massive, and the Meekrob are growing desperate."

Dib was just about to speak then and there out of habit, but the other agent was pulling back his cloak. There was a barely human face behind it, eyes and mouth present, but the nose was only visible as a pair of nostrils with an inch between them. The eyes were yellow, like those of a jaundiced man's, and the irises were red. Spooky sneered a bit, exposing a glimpse of his sharpened teeth. His hair was black, and two orange horns protruded from his head. His skin tone was like that of ash.

"Y-you're an alien!

"I believe the phrase that accurately describes your deduction reads 'No shit, Sherman'?"

"You're an alien!"

"Yes, we've pressed passed that par--"

"No! I mean, do you--obviously but--bigfoot's ghost! Just look at you!"

"Yes, yes! Big shock and all that!"

Spooky hooted, gesturing wildly.

"And you're human! And water is wet! And the Planet Vicks 17 is made entirely out of vasoline! Your perceptive abilities will astound generations to come!"

"Hey, you don't have to make fun of me,"

Dib deadpanned.

"You humans are so pathetically deprived of a universal social life. It never ceases to amaze me,"

the alien said with a flick of his hand.

"I summoned you for the sake of an important proposition, but due to your recent displays of ineptitude I'm beginning to have a change of hearts."

"You never said anything about a proposition!"

Dib was sort of overwhelmed at the moment, but he didn't want to let yet another alien slip from his grasp, especially one that actually seemed willing to work with him rather than against him.

"I never had the chance to! Now would you kindly cease your sound-making!"

Dib shrunk back a bit, now clutching the briefcase with both hands. He gave a bit of a nod and opened his mouth just a bit but a glare from those piercing red eyes stopped any noise from coming out.

"The green boy you've been prattling on about; all that information has lead me to believe that you've been dealing with an Irken Invader. It just so happens that my race and his are at great odds, and you've acquired vital knowledge on this 'Zim' character over quite some time."

Finally, what had been bothering Dib for the past several seconds escaped him.

"Hold on--Did you say 'Meekrob'?"

Spooky threw his hands up and began to turn, nearly forgetting to put his hood up before making a scene of an exit.

"That's it! Meeting adjourned!"

"No wait! Don't go!"

Dib took off, leaving his briefcase behind, getting a good grip on Spooky's cloak before the agent could take his leave. Like a little dog, he refused to let go even after a bit of a drag.

"You don't understand! Zim tricked me! He used Meekrob in one of his...mind...probe-y thi-hings! You gotta believe me!"

The alien hissed his annoyance, but he turned and stopped pressing on to leer down at the boy.

"What I believe, is that your simple primate brain is damaged beyond all repair."

"Come on, Spooky! I'm sorry, okay? Let's just start over! What do you want from me, huh? Tell meeee--"

"An Ambassador!"

Dib's pleading came to an abrupt pause. He blinked up at the agent, clearly confused.

"Wait, what?"

Spooky first made a gesture with his hand to shoo the boy off his coat-tails. The boy got the message at let go. Then he continued.

"You give us any and all information you've collected on the Invader, and in turn, you will become an honorary ambassador to the Meekrob. Despite the damage done to your cerebrum, you possess admirable insight. At least when we're not meeting in person."

"But what does exchanging information have anything to do with being an ambassador?"

"Your human idea of ambassador-ship is different from our own. Ours is more of a position of...reward. Yes."

The agent seemed to like the sound of that.

"You will have a hand in the disestablishment of the Irken empire. Considering your rivalry with the Invader in your province, this proposition should be relevant to your interests."

"Yeah,"

Dib said aside.

"It's pretty relevant."

"Good. I like the sound of your compliance. It is far less irritating than your stupidity."

They began to leave the alley together, headed for Dib's house where the boy kept the majority of his research. It seemed like bringing the suitcase along wasn't necessary after all. On the way out, they exchanged their final bit of dialogue for the remainder of this sample.

"I kind of like Zim's Meekrob more though. They didn't make fun of me."

"Irkens have a very poor concept of their enemies."

Headcanon:

It is quite possible that Dib is a genetic experiment. He does not share the Membrane last name and though he looks a lot like his father, he doesn't have a proper biological mother. Sometimes, he still sees very

horrible

things that aren't really there. He might actually be going insane. Though many humans have confirmed this, they are stupid, and what they say is barely accountable.

Job:

'Ambassador' of Meekrob. Now the word 'ambassador' is in fancy quote marks because the title entails more than what you'd expect a typical Earth ambassador's responsibilities are. Most of these are unbeknownst to Dib. They just seem to come up as fast as the Meekrob can make them up. But other than that, he is a student at a human learning facility--one of millions--located on the planet Earth. He is also a self-proclaimed junior paranormal investigator and an agent of the Swollen Eyeball Network under the codename 'Mothman'.

Your name:

Purnip
Tallest Purple


Smeet


Group: Admin
Posts: 18
Member No.: 3
Joined: 27-December 11





OK, let me just say right now that this is one of the best things I've read in a long time. It's effortlessly witty, it flows well and most importantly it as in-character as I could ever have hoped for. The whole thing reads like part of a novel and moreover, it could have come straight from an episode of Invader Zim.

Dib is a really important character given the plot we're going with. So I'm really glad that you seem to understand him well. And my

god

you can write.

Welcome to Head Pigeons Dib-human. We're lucky to have you.
Join the millions that use us for their forum communities. Create your own forum today.