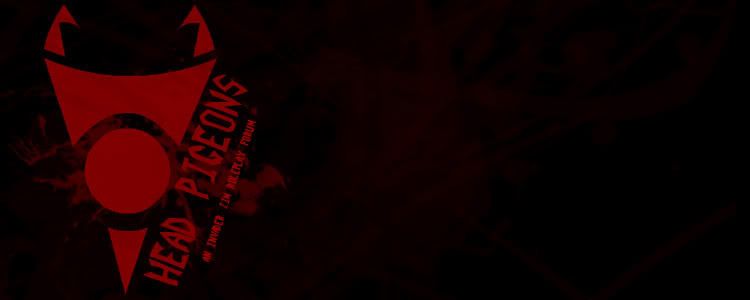 Welcome to Head Pigeons. We hope you enjoy your visit.


You're currently viewing our forum as a guest. This means you are limited to certain areas of the board and there are some features you can't use. If you join our community, you'll be able to access member-only sections, and use many member-only features such as customizing your profile, sending personal messages, and voting in polls. Registration is simple, fast, and completely free.


Join our community!


If you're already a member please log in to your account to access all of our features:


Rules
Tallest Red


Service Drone


Group: Admin
Posts: 39
Member No.: 2
Joined: 27-December 11





War is Peace
Freedom is Slavery
Ignorance is Strength

Just to say, most of these rules are pretty much common sense. I legit do not care if you don't read them, but don't cry if I warn you over some tiny thing in the rules you didn't notice. Honestly though, I'm pretty much 0k with anything so long as you aren't being a giant tosser. If you see anything that needs changed or added, just talk to one of us and we'll discuss it.

Code of Conduct

- Do not deliberately aggravate other members (casual debate is fine, but when you start getting into personal stuff that is going to clog up the cbox, take it offsite.)

- The cbox is not a place for therapy. Many of us will simply be trying to escape from our sad, pathetic lives by inhabiting an online chat box, thus it is not the place for bringing everyone down. It's fine to complain about a bad day or whatever, but if you really, desperately need some help - ask for someone to talk to you over PMs or IMs, etc. This will probably help you more in the long run, anyway.

- Swearing and all that jazz will be prevalent in the cbox, and god only knows what will be linked (spoiler: terrible porn). Proceed with your own caution.

Rating

- To be fair, I really don't expect to see much sex appearing. Dib is eleven, and Irkens don't have sexual organs. I guess it could still somehow occur with other species, but in any case go for it if you so desire. Place an [M] in the title of the thread, though. Obviously by extent sloppy makeouts, hand-holding and other symbolic rituals of "love" are allowed. Seriously though, Zim's universe is pretty much devoid of Romance, but if you can make it FILTHY AND HORRIFIC its probably 0k.

- Gratuitous violence is practically to be expected considering the nature of the show and Jhonen's other works. As such, this isn't a strict rule, but as a common courtesy you may wish to mark such threads with an [M] in the title.

- Swearing is allowed. Where would we be without fuck and damn and shit? However since the characters on the show like, never curse, it could be fairly out of character to do so. Just do it when it's appropriate I guess.

Activity Checks

- Will occur once a month. If you don't post within a month your character will be revoked. Exceptions will occur if you

suck us off

have a reasonable excuse/have posted in the vacations thread. This is purely because of the limited number of characters within the show, and as such activity is really a must to keep the site going. This might become more lenient when things get moving.

In Character

- Obviously don't be out of character.

- Don't god-mod or powerplay or anything. Feel free to manipulate NPCs.

- Roleplay in

third person

.

- There is absolutely no word count limits or anything like that, quantity absolutely does not infer quality. Quality is far more important than quantity.

Who can I apply as?

- Absolutely anyone from Invader Zim, including the deceased. The only exceptions are any previous Tallest, as that would fuck shit up plot wise man.

- Invader Zim OCs, in other words any Zim race may be app'd. Obviously no Irken OC can be taller than the Tallest, and no Invaders can be created outside of the canon invaders (which are listed.)

- Anyone from any other Jhonen canon, but of course this will be still set in the Invader Zim universe, so keep that in mind.

- Made up alien races are accepted, but bare in mind this will subjective, as we will have to judge if this race would fit in the Invader Zim universe.

- Other canons aren't going to really be accepted, we really need Jhonen-verse canons right now and others probably wouldn't fit the style.

How many characters can I apply as?

As many OCs as you want. Ten million. Go on. Do it.

As for canons though, as much as I hate doing this - Invader Zim has such a limited pool of characters, so I am going to lay down the rule that only two canon characters may be taken at a time by one person. There might be exceptions to this, like if you wanted some really insignificant invader, Lard Nar and idk Poop Dogg or something then god damn son I'll probably let you through. Obviously, canon characters that are likely to have heavy amounts of interaction (Ie; Zim and Dib etc) cannot be taken by the same person.

Other shit

Rules change, the admins aren't perfect, and everyone makes mistakes. If you see something really retarded, pull us up on it. We love you ordering us around ~
Create your own social network with a free forum.