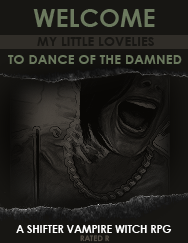 Rules and Guidelines
Plot Information
Canons
WE ARE IN NEED OF HUMANS, WITCHES, AND COVEN VAMPIRES!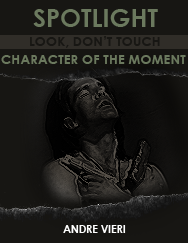 "Danger is as much an ingredient of life as love is, whatever worth that silly word still holds. I must confess. Only my respect for you and your position keeps me at bay. Were you any other, a mortal, I would not control myself so well…though I hardly think you would mind being pinned beneath me.

Shall I give you a tour?"

Give us a shout, but keep it clean, polite and spam free!

Sidebar: Dana
Coding Help: RCR




We have more banners on the Affiliates board!



Active Stats
Total Cumulative Posts
10 ( 1.70% of total forum posts )
Posts per day
0
Joined
22-January 09
Last Activity:
May 2 2010, 04:38 PM
User's local time
Dec 10 2013, 06:50 PM

Communicate
Email
Click Here
AIM Name
pvenny
ICQ Number
No Information
Yahoo Identity
petsrock12
MSN Identity
p.srock@hotmail.com
Personal Message
Click Here

Information
Home Page
No Information
Birthday
11 July 1993
Location
Don't know...WHERE AM I?!?!
Interests
My interests include everything computer, because basically my whole life is on the computer becasue i have no life in the real world. I do graphics, and I think I am pretty decent. I got my photoshop CS2 4 christmas' ago. I am into basketball, reading, writing, and I love animals. I also am a major theater geek, ask me anything that has to do with musicals and broadway and I will answer them! I LOVE everything acting! I have been in the following productions: Oklahoma! , Fiddler on the Roof, Alice in Wonderland, A Christmas Carol, I was Miss Hannigan in Annie, I was Dolly Tate in Annie get your gun, The Wizard of Oz, and many others just to name a few!

Posting Details
Member Group
Members
Member Title
No Information
Avatar
Signature