WELCOME
Welcome to Dallas 2012 Fans! This forum is dedicated to the TNT Hit Show "Dallas" We also support ALL the actors & actresses that bring the characters to life on the show! We also provide all episodes, screencaps, spoilers, artwork & anything your Dallas loving heart desires! Were your #1 source for ALL things Dallas! Don't forget to keep supporting the show!

If you have any questions or concerns don't hesitate to send an administrator or moderator a PM & have fun posting!
YOUR STAFF
OF THE MOMENT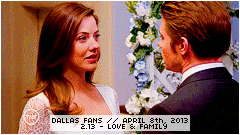 TWITTER
Coming Soon...
AFFILIATE W/US
OUR AFFILIATES
BOARD CREDITS
Graphics: Amanda
Thanks To Xandra @ Caution 2.0 For The Pips!
Sidebar: Dana
Coding Help: RCR

The following errors were found:

The board administrator requires all members to log in


You must already have registered for an account before you can log in.
If you do not have an account, you may register by clicking the 'register' link near the top of the screen

I've forgotten my password! Click here!