Welcome!
Welcome to Days Of Our Lives Fans! This board is dedicated to the NBC Soap Opera "Days Of Our Lives"! We also support ALL the actors & actresses that bring the characters to life on the show! We also provide all episodes, screencaps, spoilers, artwork & anything your Days Of Our Lives loving heart desires! Were your #1 source for EVERYTHING Days Of Our Lives! Don't forget to keep supporting the show!

If you have any questions or concerns don't hesitate to send an administrator or moderator a PM & have fun posting!
Of The Moment!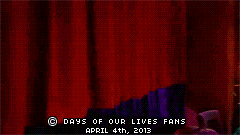 Affiliate With Us/Our Affiliates!
Our Affiliates
Board Credits!
OTM: Amanda
Sidebar: Dana
Coding Help: RCR
Welcome to Days Of Our Lives Fans. We hope you enjoy your visit.
You're currently viewing our forum as a guest. This means you are limited to certain areas of the board and there are some features you can't use. If you join our community, you'll be able to access member-only sections, and use many member-only features such as customizing your profile, sending personal messages, and voting in polls. Registration is simple, fast, and completely free.
Join our community!
If you're already a member please log in to your account to access all of our features:


Open Topic (new replies)
Open Topic (no new replies)
Hot Topic (new replies)
Hot Topic (no new replies)
Poll (new votes)
Poll (no new votes)
Locked Topic
Moved Topic