Shift
=======================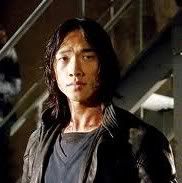 Classifications
------------------
Position: Charter
Team: Omega
Power Level: 4
Experience Level: Elite
Types (Primary/Secondary): Martial Artist/Transporter
Statistics
------------
Strength: 10
Agility: 20
Intellect: 6
Willpower: 8
Health: 40
Calling: Idealist
Hinderance: None
Skills:
--------
S: Martial Arts Weapons
A: Acrobatics, Flinging, Martial Arts (Ninjitsu), Thievery
I: Espionage, Mechanics
W: Meditation, Observation, Survival
Languages: Mandarin, Korean, Japanese
Powers:
----------
Hyper-Agility 20 (supersedes his normal Agility of 10)
Teleportation 14 (up to 25 million miles)
Stunt: Passengers (can take a # of passengers equal to Power Level)
Stunt: Summoning (Items to him)
Stunt: Quick Turnaround (can leave and promptly return within the same second)
Stunt: Fusillade (multiple attacks seemingly at the same time on multiple opponents)
Stunt: Micro-Environment (the area around him is cleared of all harmful gases upon arrival, temperature temporarily equalizes, etc)
Regeneration 10
Life Support 7 (he no longer needs food to survive)
Space Flight 8
Stunt: Lightning Speed
Equipment:
-------------------
Shuriken +3
Swords +4
Knives +2
Why was he recruited to be a member of the Crusaders?
His ninjitsu training combined with his extraordinary gifts make a formidable warrior. Since the discovery of him in stasis in a genetics lab, Shift was "adopted" from the facility he was being held in and treated as an equal. In time, he has proven his value numerous times and been granted a Charter membership by the other Charter members.
_