Here is an overview of some of the weapons and manufactures you might find in the Crescendo Era.
Overview:
The three biggest weapons manufacturers in the galaxy are Tendrando Arms, Merr-Sonn, and SoroSuub, with Tendrando Arms taking the lead as the largest of them all. Other notable weapons manufacturers include Charubah Industries (creators of the Gun of Command), Coruschal WeaponWorks (famous slugthrowers), Drearian Defense (produces weapons for Cybot Galactica and Arakyd Industries), Golan Arms, Kelvarex Consolidated Arms (miniaturized weapon systems), LaserHone (vibro weapons), Novaless Soni-Optics (galactic renown optics), Tam & Bak, Yctor Arms (collector and reproduction weapons), and Zix Gunworks (Verpine weapons).
Types:
Blasters -
the most common weapons in the galaxy. They include pistols, carbines, rifles, cannons and many other variations.
Chemical Weapons -
not as common as blasters, chemical weapons are usually utilized by professionals or extremely nefarious type characters. They can take the form of gas grenades, poison darts, snare rifles, carbonite weapons, and sophisticated sensory scramblers.
Disruptors -
a specialized form of blaster that causes more damage at the cost of range and the amount of uses. They are capable of disintegrating a target and are often banned in civilized sectors. Disruptors often exist in pistol and rifle variants.
Electrical Weapons -
popular in melee combat but also available as projectile weapons, especially plasma weapons. They include plasma disruptors, ARC casters, cortosis/electro/shock staffs, force pikes, energy batans, firespray stun rifles, EMP rifles, magnapulse rifles, electrorays, electroshock nets, energy bolas, neuronic/shock whips, and guns of command.
Incendinary Weapons -
basically flamethrowers, and as such, have the typical limitations and advantages. Most are used by specialists or beings who carry a wide array of weapons on hand. They include flame rifles, flame projectors, and flame carbines.
Ion Weapons -
specifically designed to be used against droids, ion weapons cause massive damage to electrical systems, but minimal damage to organics. Most ion weapons will cause little more than a stinging effect for organics. Ion weapons are also extremely effective against shields. Popular ion weapons include concussion rifles, ion blasters, carbines, and pistols.
Sonic Weapons -
popular among some species, sonic weapons can be very deadly, causing a wave like projectile force that can instantly kill a target by rupturing their internal organs. They include blasters, rifles, carbines, and disruptors.
Yuuzhan Vong Weapons -
available through Xana Exotic Weapons, Yuuzhan Vong weapons have found a niche clientele. Though most beings are unable to properly weld an amphistaff due to the complicated bonding rituals, other Yuuzhan Vong weapons are quite usable. They include coufees, razor/thud/snap/blast/spy bugs, blorash jelly, firejelly, chitin carbines, magma launchers, spore darts, magma pebbles, plasma eels, senalaks, and singularity mines. And thanks to Xana, several Yuuzhan Vong weapons have been bio engineered for non-Yuuzhan Vong.
Specific Manufacturers and Models:
Tendrando Arms
After buying out Blastech, Tendrando Arms soared to forefront as the galaxy's largest weapons manufacture. They produce nearly 75% of the galaxies weapons, giving them a huge edge over their competitors. With their massive production facilities and extensive R&D development, Tendrando Arms makes some of the best and affordable weapons in the galaxy. They also have several huge contracts with the Galactic Alliance Armed Forces, and an extensive line of military grade weapons. Anywhere outside the Unknown Regions, you are sure to find a Tendrando blaster not far away.
TV-76 Light Blaster Pistol

Description:
One of Tendrando's most popular models in their
Civilian
line. Packs 31 shots in an accurate and affordable pistol.
TM-32 Medium Blaster Pistol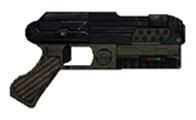 Description:
The TM-32 is part of Tendrando's
Military
line and is not available to the civilian market. It packs three times the punch of the TV-76 without any decrease in the amount of shots. On the black market they cost nearly four times as much as the TV-76.
TM-52 Light Repeating Blaster Pistol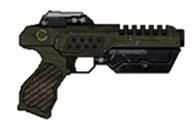 Description:
The TM-52 packs the power of the TV-76 but with the added bonus of a repeater. Able to fire in fully automatic and burst mode, it holds 100 shots. Not available to the civilian market.
TG-12 Trishot Blaster Pistol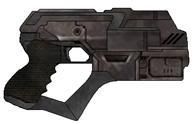 Description:
Trishot blasters shoot three blaster bolts simultaneously instead of the normal single bolt. Due to the increase kick, trishots are not as accurate as normal blasters but the additional damage can be worth the trade off. The TG-12 packs 20 three-bolt shots.
TL-88 Heavy Ion Blaster Pistol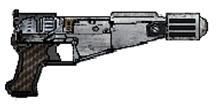 Description:
Like all ion weapons, the TL-88 is lethal to droids and nonlethal to organics. The TL-88 packs enough punch to permanently fry unprotected electrical components with a single shot. On an organic target, it has enough energy to temporarily stun with a slightly painful electrical jolt, typically with no permanent damage, however it is not intended to be used as a stun device and could be lethal under certain circumstances. The TL-88 has 30 shots.
TX-90 Disruptor Pistol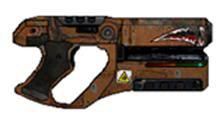 Description:
Disruptor pistols are illegal on almost every Core planet and most civilized systems. That said, the TX-90 is still a highly sought after weapon. Sales are generally restricted to military and security agencies, though with the right permits and taxes they can be purchased by civilians. The TX-90 packs only 15 shots on full power, but each of those shots can fully disintegrate a target.
TM-54 Heavy Repeating Blaster Pistol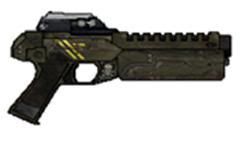 Description:
Another military only model, the TM-54 is the bigger cousin of the TM-53. It packs nearly three times as much power per bolt with auto and burst capability and a total of 50 shots.
TM-55 Autoblaster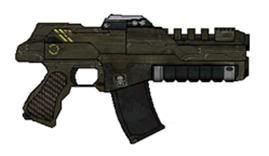 Description:
TM-55 is not as powerful as the TM-54, but packs more firepower with a total of 150 shots. It is not available to the civilian market.
TV-37 Medium Blaster Rifle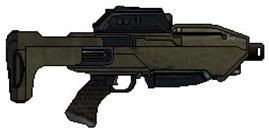 Description:
With more range, more power, and more shots than the TV-76, the TV-37 is another popular blaster rifle on the civilian market. It typically holds 100 shots but aftermarket modifications can effect the capacity, as well as the power.
TG-22 Trishot Blaster Rifle
Description:
The TG-22 has greater range than the TG-12 and twice the number of shots. External power packs, worn by the user and hooked up via an external power line, can increase the total shot capacity.
TM-196 Accelerated Charged Particle (ACP) Carbine
Description:
The ACP carbine uses accelerated charge particles rather than the energized particle beams of a typical blaster. ACP weapons are generally more effective against shields, though they do better against organics than droids. Each time they fire they use a cartridge which consists of a couple dozen particle charges. Thus each shot is like a tightly grouped shotgun blast. The TM-196 has 50 shots.
TX-30 Disruptor Rifle

Description:
The TX-30 is very popular weapon among well equipped bounty hunters and criminals. With the range of blaster rifle, and 40 highly lethal shots that can fully disintegrate a target, it's a force to be reckoned with.
TL-12 Ion Blaster Rifle

Description:
The TL-12 has three times the range of the TL-88 and 90 shots. The power factor between the two is the same, though the TL-12 has adjustable power settings making it more effective against protected electrical systems or high powered personal shields. Note that increasing the power settings will decrease the amount of shots.
TV-44 Firespray Beam Rifle
Description:
The Firespray Beam rifle is different from normal blaster rifles in that it projects a wide beam instead of a narrow blaster bolt, thus making it useful against multiple targets. The beam itself is adjustable to the firer's specifications. The TV-44 holds around 50 shots, depending on the width of the beam.
TM-6 Projectile Launcher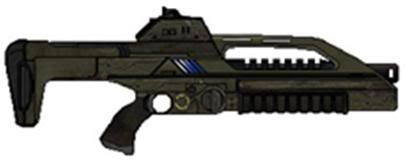 Description:
The TM-6 is a multiple purpose projectile launcher capable of firing a multitude of munitions. Typical projectiles include explosive, flash-bangs, and gas rounds. Unlike Tendrando's other military models, the TM-6 is available to the civilian market, but the more lethal ammunition is not. Typically the TM-6 can hold 12 shots.
TM-17 Blast Cannon

Description:
The TM-17 blast cannon fires seven blaster bolts at once and is an extremely effective close range weapon. The blast patterned can be tightened for longer range shots, but its range is significantly less than a blaster rifle and is more on par with a blaster pistol. It holds 30 shots.
TV-90 Sniper Rifle

Description:
The TV-90 is a long range blaster rifle that comes equipped with a Novaless Soni-Optic Designated Marksman scope. Capable of shooting targets a mile away, the TV-90 is a marksman's best friend. It holds 50 shots.
TM-200 Heavy Concussion Rifle
Description:
The TM-200 concussion rifle fires a compressed capsule of ionized air that creates a lethal shockwave on impact. Not only is the TM-200 a long range weapon, but it is also impossible to block with a lightsaber and can hit multiple targets. The TM-200 is not available to the civilian market without special permits and taxes.
TM-9000 'Long Shot' Sniper Rifle

Description:
The TM-9000 is one of the top-of-the-line long range sniper rifles in the galaxy. With advanced beam compression and ionization systems, the TM-9000 has a greater ranger than other sniper rifles and can actually engage low flying air craft. It also has an adjustable output which can allow it to engage heavily armored targets or switch to rapid low-power fire. However, the TM-9000 has a downside: it's heavy, bulky, and expensive.
TM-800 Heavy Carbonite Rifle

Description:
The TM-800 fires a short stream of liquid carbonite that solidifies rapidly on contact. The solidification is only temporary and will eventually thaw out after a few minutes without any permanent effects to the target. However, while frozen, targets are extremely fragile and can easily be shattered. Carbonite rifles are also very limited in range. The TM-800 has only 30 shots.