the write up for linda & missie at their limit show the other day!
(wel the closest i will have to an obedience brag!!! DIS obedience ont he other hand....my lot would win hands down of course!)
lst No 22 Mrs. L. Smith and her Border Collie. Harrjak Guided Miss Isle.
I see this dog every week doing agility and improves each time so I was amazed in seeing this dog working in front at agility how she came so close to the leg on heelwork with good attention to the handler, very little to mark on the heelwork but anticipation on the set excercises, a truly great round well done.
:wub: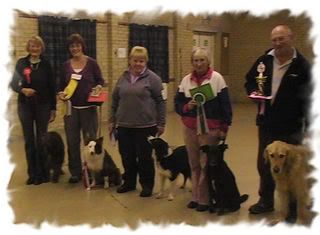 here's a linky to her page on youtube, loads of her working, i like the one in the hall though!
http://www.youtube.com/saltash88