Okay, so he doesn't fetch them yet, but he does love them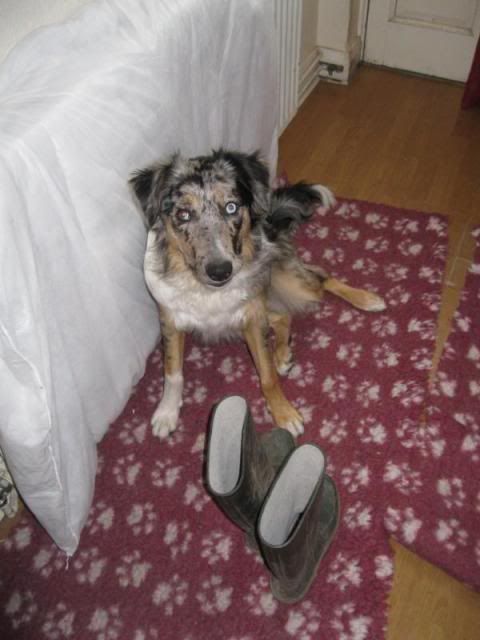 Let's go!! I'm sitting nicely
Mabel is coming today, because we are going to new places, and she helps me feel brave
I'm getting too big for this stile...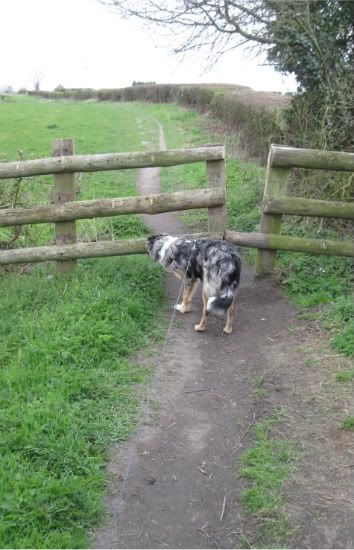 ...waiting for you to catch up...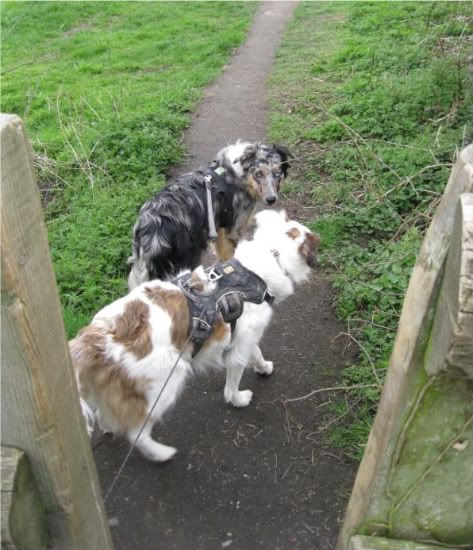 Some sniffing...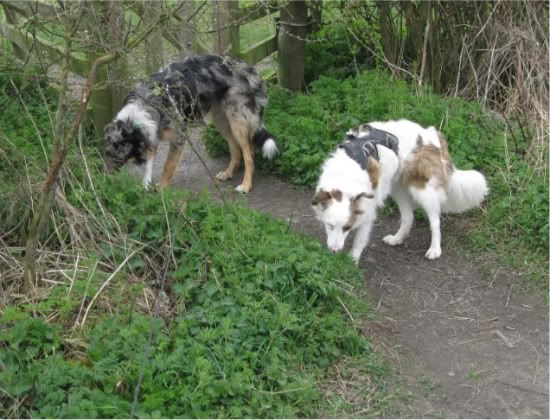 ...I'm coming!!
...let's find those treats she dropped Mabel...
Come on, let's go!!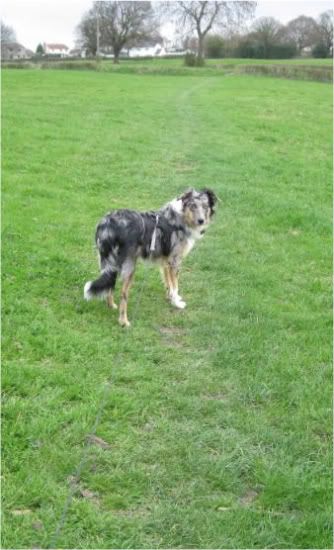 Look at me!!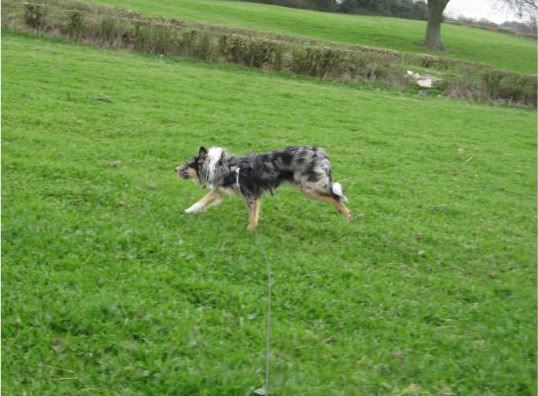 My foster laydee forgot about all the 'hazards' on the walk, so after the yippy yappy 'get off my field' Jack Russell, and the busy road, and the cattle grid, I was not wanting to look at the scenery and look handsome, fank you!! Let's go!!
Okay, here I come then ...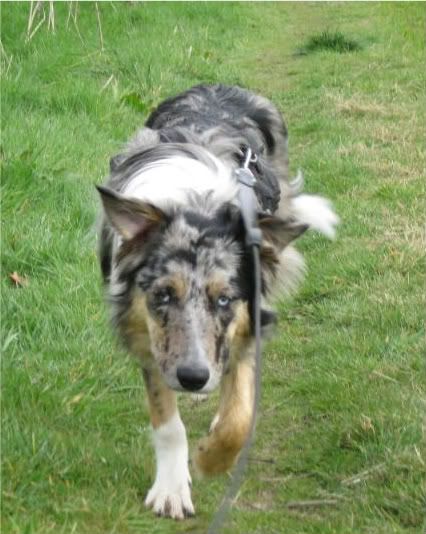 But I really would like to get through this gate quickly, I'm feeling a little anxious. Do you think I will find a forever home to help me be even braver?
I was frightened of this log, then I realised it was my very favourite sniff. Look how lovely it is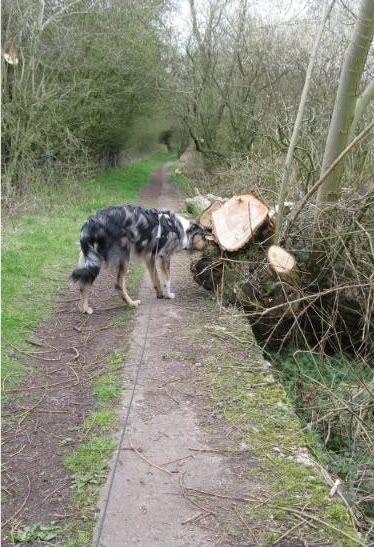 Sniffle sniffle...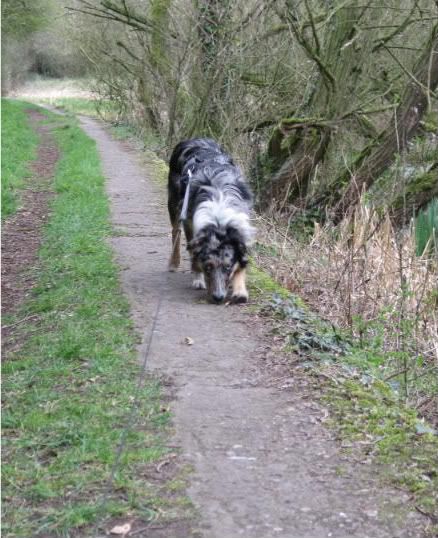 Now then. Another thing my foster laydee forgot, was how many stiles is in this walk. I am getting too big enough at 7 and a half months to squeeze through gaps, and not quite old enough to be jumping and climbing. And I'm not keen on being picked up, so my foster laydee thought that we would be trapped in the countryside for months, stuck between stiles
But I saw Mabel getting over, and I didn't want the foster laydee to leave me behind, and I really wanted to do it, so I let her 'help' me over a few stiles. It was great fun, but there are no pictures of my first ones
Look at me here though, I'm a fast learner
Hmmmm..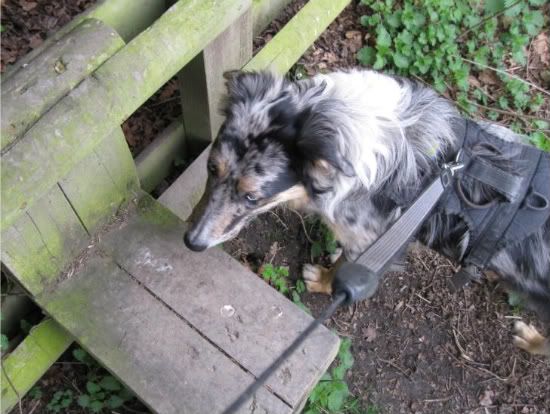 I AM a tiny puppy!!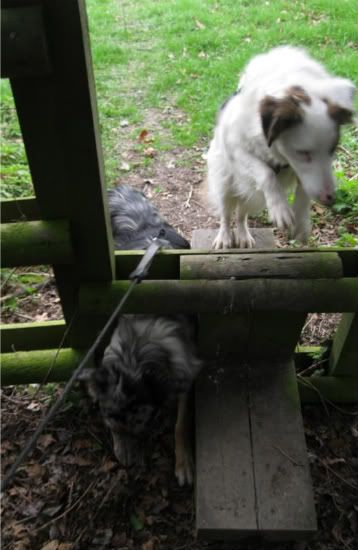 Look at me jumping!
And finally here is a friend I met on the way home. I love horses and ponies, I am as big as this one
She is blowing her hot nose on me!!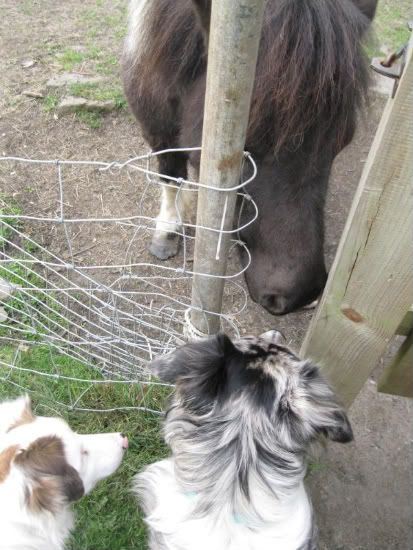 Hello. I am the pony. I see you have a new visitor. I am going to stand right by the gate as usual so you have to squeeze through. Then I shall follow you and freak Mabel out
What a busy new walk that was
Today, I have been playing hosepipe in the garden look out for pics of me looking handsome and soggy very soon