Chris Doohan (son of James) is on my friends list at MySpace. He recently posted this bulletin:


QUOTE
Casting for Star Trek XI

I just found out that they are going to make a new Star Trek Movie and are currently looking for a 30 something actor to play the role of , Scotty (yes, I'm a bit older :). They already signed Matt Damon for the role of Capt. Kirk and are considering James McAvoy as Scotty, but have not made the final decision yet.

They are not looking to fill ALL the spots with known actors, so I thought that maybe I would give it a try. Here's why. 1.I kind of look like my Dad. 2. I can do a great scottish accent. 3. We share the last name. 4. I like money. I didn't know how to try out for this, or get an audition, so a friend in the business said that I should start a write-in campaign and get a bunch of my friends to write, or call Paramount studios and J.J. Abrams (the producer) to try and persuade him/them to give me a try.

If you guys could help me with this, that would be great!! Even if they fill the Scotty role, maybe they could give me a small walk on role??

The address is: Paramount Studios Attn: Star Trek Casting 5555 Melrose Ave. Hollywood,Ca 90038



Phone # (323) 956-5575


So, thought I'd pass the word! I think it's a terrific idea for him to recreate his father's role in Star Trek. Good luck to him!
Hey, that's so xool that he's actually going for it.. The last name at least should get him some considerstion for the role of Scotty..I hope he gets into the movie at least as a walk in..
:thumbs:
the best person would be the son!
Here's a recent interview from
Trekmovie.com
:
QUOTE
When Chris Doohan, the son of the original Scotty James Doohan, saw reports that Paramount is looking for a new Scotty he decided he should throw his hat into the ring. To that end Chris has started a grassroots campaign asking fans to write Paramount and suggest a Doohan for the iconic engineer. Chris tells TrekMovie.com that the idea actually came from fans: "In the back of my mind I thought this would be kind of neat to be in the movie, but never thought as the role of Scotty. Then a lot people on MySpace kept saying I should try it, and so I thought what the heck I will give it a try," Doohan, who is frontman for the band Muddflaps, mainly considers himself a singer and works professionally as a vascular technician. Although Doohan has been surprised at how much interest his campaign has garnered, he is realistic about his chances, saying "it is probably a shot in the dark and I know my chances aren't good, but it is something you throw out there into the universe and see what comes back"

Wouldn't be his first time
Doohan does have some experience as an actor (a role a the show "Your Big Break" and two appearances on the reality show "Breaking Bonaduce") but says he is not interested in breaking into acting full time. He realises that Paramount will likely go with a more experienced actor for the role of Scotty, especially if it is more than just a cameo type role. Mostly he wants to have any kind of part in Star Trek XI, even as an extra, as an homage to his father. "I think my dad would get a real kick out of this, he got my brother and I in the original Star Trek movie and he loved it and we loved it so why not try again," enthuses Doohan. Both Chris and Montgomery Doohan (who are twins) did have uncredited extra roles in Star Trek: The Motion Picture (see photo below). On the chance that he did get an audition for the role of Scotty Doohan says he is ready with a Scottish accent. "Aye laddie I'll give it all I can" demonstrates Doohan in a a reasonable impersonation of his father's trademark brogue.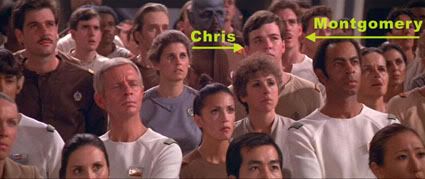 The Doohan Brothers in ST:TMP



Father would be flattered by recasting
Doohan is supportive of the idea for Paramount going back to the original series for the new feature saying "I think its great." He also believes that his father would be ok with the role he made famous being recast. "I don't think it will take away from my father's original work, he will always be known as the original Scotty, he would be flattered," says Doohan. And so who does Chris think would be the best choice (besides himself) to be the new Scotty: "Michael Meyers, I think he would do it and I think he looks the part and he does a great Scottish accent."