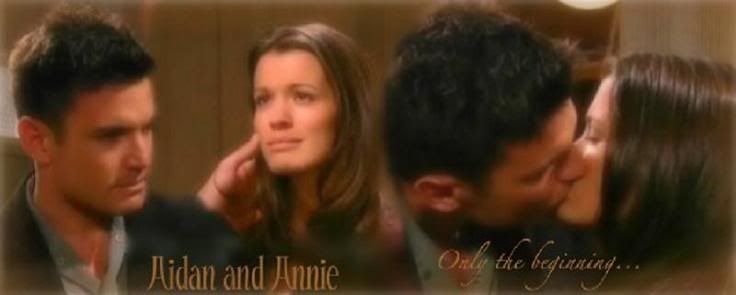 Welcome to Aidan And Annie. We hope you enjoy your visit.


You're currently viewing our forum as a guest. This means you are limited to certain areas of the board and there are some features you can't use. If you join our community, you'll be able to access member-only sections, and use many member-only features such as customizing your profile, sending personal messages, and voting in polls. Registration is simple, fast, and completely free.


Join our community!


If you're already a member please log in to your account to access all of our features:


SON for 10/5
RHLover



Advanced Member


Group: Members
Posts: 294
Member No.: 9
Joined: 27-December 08





THIS WEEK ON: ALL MY CHILDREN
Krystal's revelation about her trip to David's does little to warm Tad to her suggestion of reconciliation. Frankie begins to see Madison in a new light on Monday, October 5. Angie commits Madison for a psychological evaluation. Madison and Frankie get into an accident on their way to Oak Haven. Frankie sets Jesse and Randi straight when they assume that he was trying to get rid of their problem. Jesse listens in as Madison confesses everything to Frankie. On Tuesday, October 6, Jake and Amanda make-up and make love. David reluctantly agrees to name Jake his son's godfather. Jake's fears rise again after participating in baby Trevor's odd christening on Friday, October 9. David is confident that Amanda will never leave him.

The Inside Story: Tick, Tock
Free to move about as she pleases, Annie shows up at the penthouse to visit Emma on Wednesday, October 7. Ryan struggles to contain his anger when Annie points out that their daughter will be implicated for murder if he doesn't let go of his vendetta. Zach, Kendall and Aidan, meanwhile, come up with a plan to get the truth from Annie. Adam privately fears he's been ditched when his fiancé suddenly disappears. Stuart's spirit urges Adam to try to remember the night of his shooting. Aidan begins to interrogate Annie in a darkened secret room he, Zach and Kendall created on Thursday, October 8. Annie insists to Aidan that she'll be left with nothing if she exposes the truth. An upset Jesse confronts Zach about his latest move. Emma assures Ryan she didn't shoot Stuart, and tells him that she'll tell him everything after she sees her mom. Aidan doesn't believe Annie. Devane brings a sedated Annie to Ryan's loft, where Adam, Scott and Erica soon arrive. Annie tells Adam that Ryan and Aidan kidnapped her. On Friday, October 9, Emma tries to get away from all the arguing and ends up taking a bad fall down the stairs.

A Closer Look: Baby Love
Liza is affected as Bailey, Stuart's biological mother, recalls the circumstances surrounding her having to give up her son on Monday, October 5. Tad urges Liza to tell both Colby and Bailey the truth about Stuart. Colby storms out after Liza explains to her that she faked her pregnancy and adopted Stuart. Liza introduces Bailey to Stuart on Tuesday, October 6. Scott and Marissa convince Colby to make amends with her mother. Colby and Liza worry that Bailey will take Stuart from them. Liza's heart sinks when she's served with legal papers. On Thursday, October 8, Liza surprises everybody involved when she invites Bailey to move in with her, Colby, and little Stuart.

AMC ALERTS: WEEK OF OCTOBER 12, 2009
Zach and Kendall give their hearts to one another all over again. (Soap Opera Digest)

Positive it's for the best, Scott promises Annie that he'll keep the secret about Stuart's murder. (Soap Opera Weekly)

Jesse puts Angie in a tight spot. (Soap Opera Digest)

Things quickly unravel when Kendall's (injured) double decides she's had enough and turns rogue. (ABC Soaps In Depth)

Kendall takes matters into her own hands after Zach heads off to turn himself in. (ABC Soaps In Depth)

Kendall promises Zach that she'll find a way to come back to him. (ABC Soaps In Depth)
Create a free forum in seconds.